After starting my own online reading program to teach children to read, naturally I was always curious about other reading programs and how  they compared to what we offer at Sight and Sound Reading.  As you may know, I have five children, currently ages 9,7,5, 3 and 1, and I often hear advertisements for ABCmouse.com
.  With this in mind, I contacted ABCmouse.com
and asked if I could review their program.  Thankfully they agreed and allowed me and my children to have access to their site so that I could review their program and share it with you.  Today I will not only give you my ABC Mouse review but also the ABC Mouse Reviews from my children!  Not only will you get a reading teacher's perspective but also kid-tested reviews as well.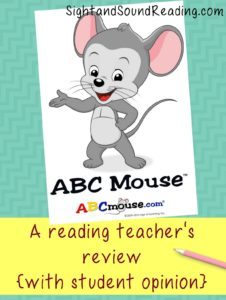 ABC Mouse Reviews
First I will do my ABC Mouse Review.  First to state the obvious.  ABC Mouse is an animated program and our free online reading program is taught through youtube videos and worksheets.  We do not have the resources to be able to animate our program, but we have not found it to be necessary. We find little ones love to watch Mrs. Karle and we receive wonderful reviews and feedback of how we help little ones learn to read. ABCmouse.com has interactive nline books and games to original songs, puzzles, art activities, and printables.  There are activities to
Help your child learn reading, phonics, and math in a fully interactive environment.
Help your child develop a love of learning at an early age.
Help your child gain essential learning skills that will last a lifetime.
Build your child's educational foundation before entering school.
Prepare your child with these essential reading and math skills to succeed in school.
Give your child an educational head start before entering school.
Allow your child to learn at his or her own pace.
On the reading side of the site, ABCmouse.com
 helps children to quickly learn the letters of the alphabet and their sounds, practice sight words, follow along and listen to fables, fairy tales, and nonfiction books.  Children learn and  practice uppercase and lowercase letters, phonics (letter sounds), rhyming words and word families.
Besides reading, abcmouse.com offers math:  ABCmouse.com
teaches numbers, shapes, patterns, and measurements. The site's games and creative activities make math fun while giving young learners the practice they need to build a strong foundation for success.
The math curriculum includes: recognizing and counting numbers 1-100, "More than" and "Less than", identifying as well as drawing shapes and simple patters, and the meaning of addition and subtraction.
ABCmouse.com
also offers social studies, science, and health including the body and health, sports, plants and animals, weather and the seasons, and the earth, moon, sun and stars.
Lastly ABCmouse.com
has an art and coloring section where children can use lines, shapes, and colors to create original works of art. Games, books, paint-by-number activities, and puzzles teach children to name and use a variety of colors.  Children learn primary and secondary colors, shades of colors, paint-by-number activities, and number and letter dot-to-dots.
ABCmouse.com is a fantastic online environment to help little ones practice beginning reading and math skills.  It does not explicitly teach a child to read.  That is where our online reading program and ABCmouse differ. We explicitly teach the students and offer word for word teaching reading book on how to teach a child to read.  With abcmouse, they offer fantastic resources for a child to practice what they learn.  They are great for a child to learn and practice alphabet letters and sounds.  They are fun interactive practice of early sight words and skills. They are great for helping your child listen to online stories, practicing letter writing.
It is not just for pre-school and kindergarten age children. There are also harder skills like blending and vowel sounds that were great for my first grader. There is an amazing amount of fantastic resources to help a child using ABCmouse.  It is actually quite impressive.  The children all absolutely LOVE abcmouse.  They voluntarily choose to go to  it during their free computer time.  They can go anywhere (well, within reason – you know what I mean!) on the web during screen time..and more often than not, they are on abcmouse.  It is extremely interactive.  The children have a learning path that they walk you through and the children love to do the things that will take them to the next step in their journey.
As I said before, abcmouse does not explicitly teach your child to read.  Do not get it and think you can put your child on it and they will learn how to read.  ABCmouse.com
is fantastic for practicing skills to help a child read.  If it were me, and this is how I do with my own children, I teach my child to read using our free online program or our teaching reading book, (or have them learn to read at school), and then use abcmouse and an awesome supplement to help children get excited about learning and reading and help your child gain confidence with reading.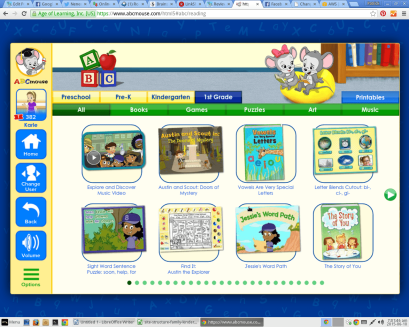 As you may know, I say it all the time, a child who is confident with reading likes to read.  A child who does not feel confident does not like to read and struggles with reading.  ABCmouse.com
is a great way for children to practice those skills.  There are literally thousands of interactive resources on their site and I highly recommend it for any beginning reader (preschool-kindergarten-first grade).
Now, for my children's ABC Mouse Reviews. I asked my five year old why he likes ABCmouse.com
.  He said he likes "playing the games and singing."  When I asked if there was anything else he liked, he said "coloring, doing different things that are so good, tracing his name".  When I asked my first grader what she liked about it, she said she liked to "do the puzzles and write letters and sound out words".  (She is my child that struggles with phonics so it is nice to hear her say she likes to practice it!).  When I asked my 3 year old, he said he likes "the songs and coloring".
The nice thing about ABCmouse.com
is that you can try it for free and see for yourself!  I definitely would recommend it to anyone who asked me their opinion.  The children love to use it, and it great for reinforcing skills.  Kid tested, mother (and reading teacher approved!)  (Click on the picture below to try it free for 30 days!)
If you liked this, you will also like: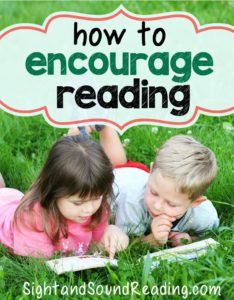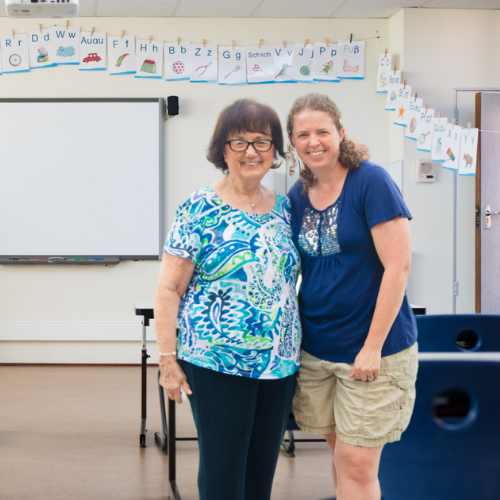 Madreen Karle is a master first grade reading teacher with over 30 years of classroom experience. She taught reading in a special needs and English as a Second Language classroom. After retiring she wrote a reading program to help others learn how to teach reading. She is a trusted educator and author of 5 books to help teach children to read and write. In addition to her books, she is a mentor for 3 websites that give reading teacher tips (Mrs. Karle's Sight and Sound Reading, Mrs. Karle's Reading Patch, and Mrs. Karle's Handwriting Patch). Through her teaching she learned that confidence was the key to learning to read. A child who is not confident at reading does not like to read and struggles to read. Mrs. Karle created "sunshine moments" to help teach children how to grow their confidence and learn to read.
Meeghan Karle Mousaw (Madreen's daughter) has her Master's in Special Education. She has 8 years experience teaching children to read online. In addition, she developed a curriculum to teach children handwriting called The Handwriting Patch. With the Handwriting Patch learning is fun because children learn to draw and learn handwriting at the same time. In 2019 The Handwriting Patch curriculum became an amazon best seller the first year it was released, helping thousands of kids learn handwriting with a unique, fun method. She is mom to 6 kids, each with differently learning abilities and struggles.
The Reading Patch was established by the creators of Mrs. Karle's Sight and Sound Reading. Together they have been featured on the NBC media outlets and Parents Magazine online. Over the last 8 years in their online platform, Madreen and Meeghan have worked tirelessly with teachers, homeschoolers and parents looking to help children learn to read to become a trusted authority in teaching children to read and advocating early literacy skills. They often partner with other educational experts to deliver the most current information to the Reading Patch community.