So, here is one of my first posts on the topic of "Me"…  Any questions out there? What do you want to know?
I went to three different high schools…I lived in the same place (north of Chicago) for 16 years, then spent one year in Ohio and one year in Connecticut.  Mrs. Karle and my dad kept telling me it would prepare me for college.  I suppose they were right.  Nothing like leaving the only place you know and starting over…  good training for college.
I went to the University of Notre Dame (Go Irish!) for undergrad.  I studied Management Information Systems (a business degree), and Spanish.  I programmed a computer to run a pension plan for 5 years before I decided I had enough of the business world and I wanted to become a teacher.  I went back to school to get my Masters and ended up graduating from Assumption College with my Masters in Special Education.  I met my husband while at Notre Dame…  many years later, 5 children and a Labrador retriever-we have chaos everywhere!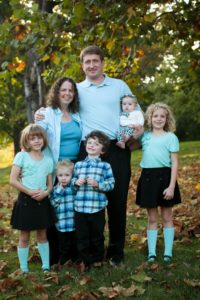 Anyway, this is my brief introduction…  more to come next week! 🙂