Chomping Clothespin Alligator Craft
If you're studying the letter A, don't miss out on making this super-fun clothespin alligator craft as a part of your letter A crafts. Kids will love this one because not only are alligators fun for most kids, but these alligators really bite! This craft is simple enough for preschoolers and kindergartners to complete with just a little help from a teacher or parent. You'll want to have all supplies on hand in advance to make it easier to finish the craft without a struggle.
Before we begin, here are a few books that I recommend to help you teach the Beginning Sound Letter A.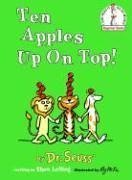 Ten Apples Up On Top!

There's an Alligator under My Bed

Apples, Apples, Apples

The Seasons of Arnold's Apple Tree

Alligator Shoes (Picture Puffin Books)

If You Ever Want to Bring an Alligator to School, Don't!
&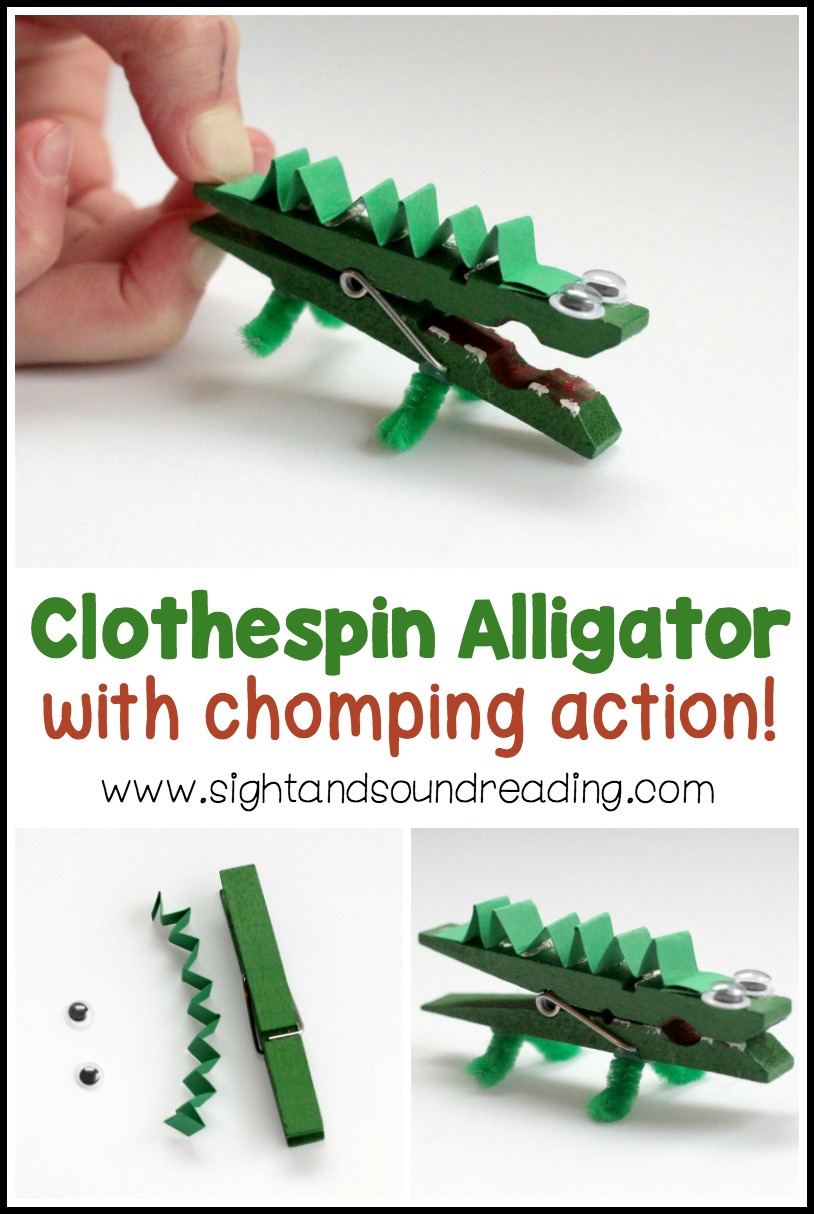 Chomping Clothespin Alligator Craft
What you'll need to make clothespin alligators:
Clothespins (1 for each child. Use green to make things even easier)
Washable craft paint in white and red
Googly eyes
Green chenille stems
Scissors
School glue
Green paper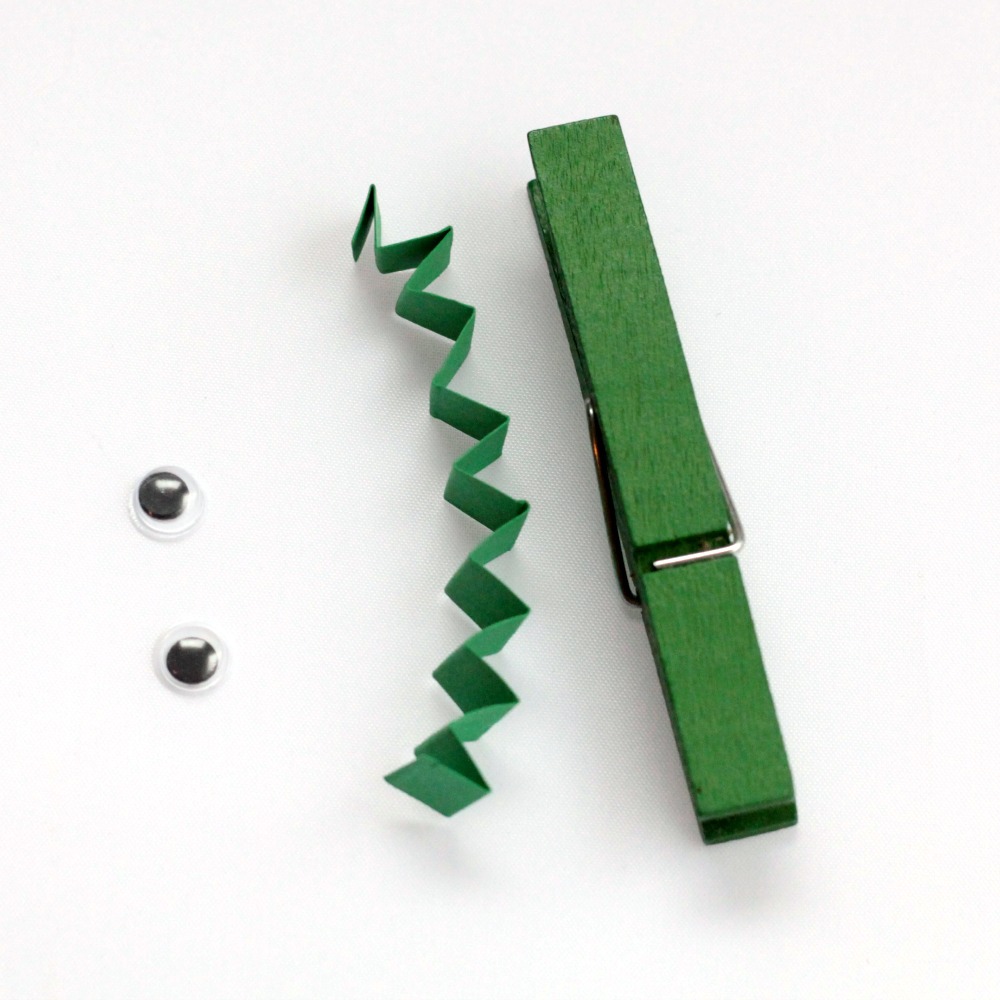 Clothespin Alligator Craft Directions
Before starting this craft with kids, cut two pieces of chenille stems to a length of 2 inches each. These will become the legs of the alligator.
Cut a strip of green paper as wide as the clothespin and about 1 1/2 times as long. You'll need a set of legs, eyes, and strip of paper for each alligator.

Paint the inside of the clothespin red where it connects when closed. When the red dries, add white dots to make teeth. When the paint is dry, the craft is ready for the kids.
Show the children how to make an accordion fold with the strip of paper. The folded paper will become the alligator's back. Glue the paper to the top of the clothespin, leaving enough room for googly eyes.
Glue the two legs to the bottom of the clothespin and bend out to make legs.
Glue two google eyes to the top of the clothespin near the mouth.

When the glue dries, the alligator is ready to chomp! Squeeze the tail to make the alligator's mouth open. The alligator can open its mouth wide to show off its pearly white teeth!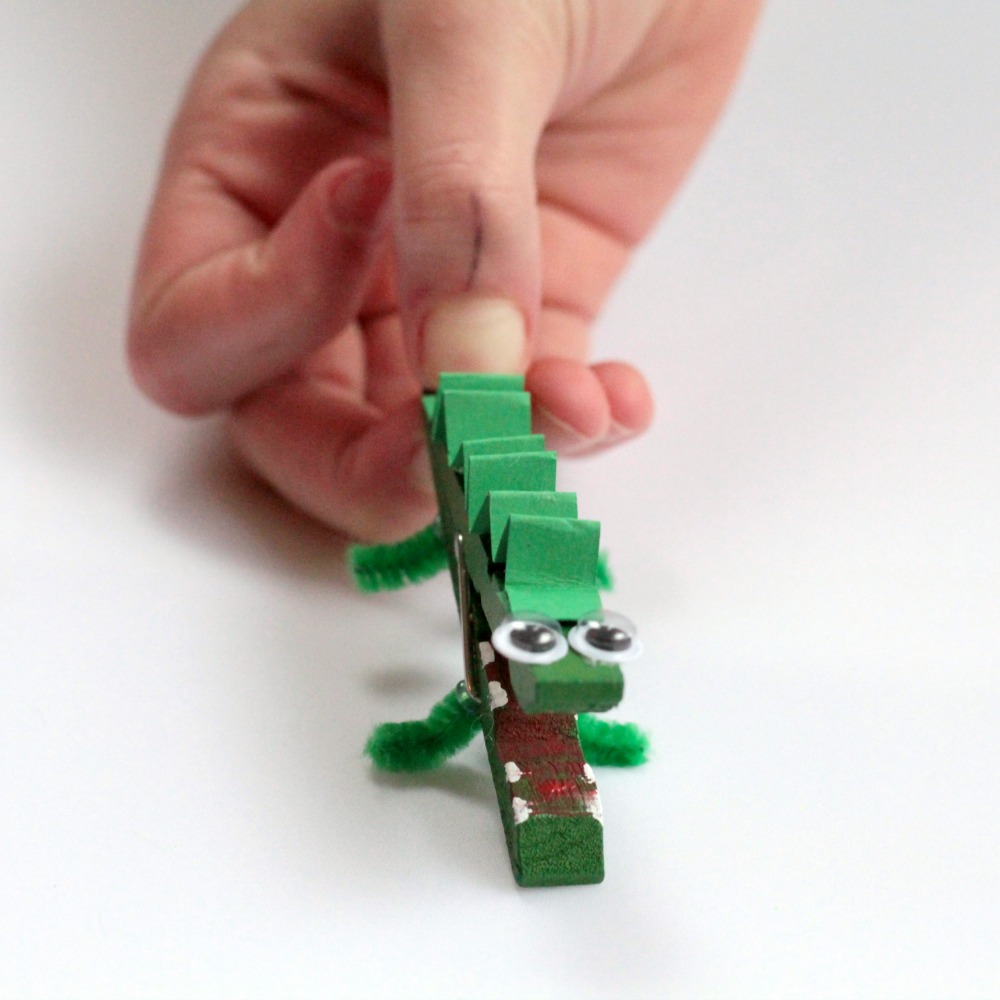 Would you like Free Letter A beginning sound worksheets to go along with your craft? Enter your name/email for free Letter A beginning sound worksheets to help you teach the letter A! If you have any trouble getting the freebie, please email me at [email protected]
How to Grow a Confident Reader
Beginning Letter A Sound Worksheets
1. Enter you email on this form to get your free download
2. Get tips to help you grow a confident new or struggling reader
When you join Mrs. Karle's Sight and Sound Reading
you will learn how to break free from patching together reading lessons
and learn how to grow a confident reader. 
If you like this post, you should visit:
Letter A Craft: Alligator Paper Plate
Apple picking, apple pancakes -short a sound
Best Paper Airplane to Teach Letter A
Teaching the Short Aa Letter Sound
Fun Phonics -Letter A worksheets