I am so excited to bring you some ideas on how to teach a community helper unit!  Today I have a community helper game for you!  I also have some other fun ideas to help teach about community helpers.  Pleae feel free to leave me a comment with other ideas!  Before we get started with our community helper game, here are a few fun books to read during community helper week!
Clothesline Clues to Jobs People Do
Helpers in My Community (Bobbie Kalman's Leveled Readers: My World: G)
Let's Meet a Police Officer (Cloverleaf Books – Community Helpers)
When I Grow Up (Little Critter) (Look-Look)
Community Helper Game and other Lesson Ideas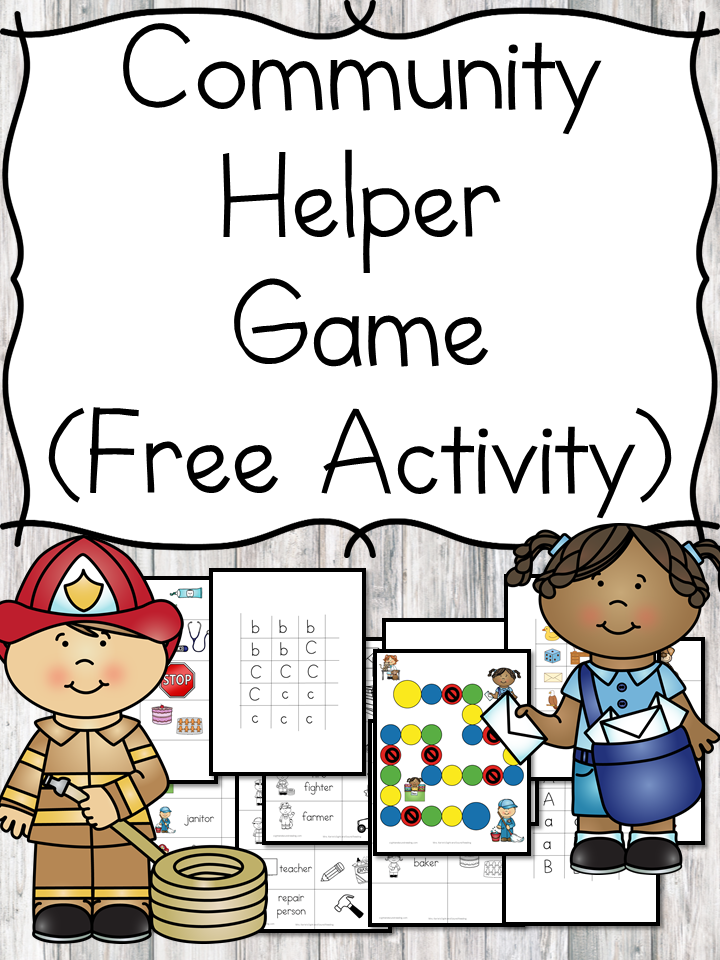 So, I did a little brainstorming to come up with a few ideas for you to help with your community helper unit.  It is great to help children learn what  different community helpers do.  It is great for them not only to see that there are so many people that help us each day, but also that some day they can become a community helper.
 Play dress-up!  Kids love to dress up and do pretend play. . Download some free pretend play worksheets and have fun pretending to be a doctor, vet, police officer, teacher and more!
Take a field trip!   – Visit a fire department, police department, library…
Bring the Field trip to you!  – Ask for parent volunteers or see if you can get a fire person, police officer, librarian, doctor, dentist, vet, repair person to visit you.  Have the students ask questions.
Write letters to community helpers – Write thank you notes to community helpers or write them letters to ask them questions.  If they come visit your classroom (or if you visit them), this is also another great reason to write a follow-up note or thank you too!
Pretend play a restaurant! – During snack time or lunch.  Make menus and have students order their food, or have them play waiter/waitress.
Do a fire safety unit in October for fire prevention month.  Bring in a fire fighter or visit a fire house.  Practice a fire drill, and practice stop/drop/roll.
Do a dental health unit in February for dental hygiene month
Do a postal worker unit in February or Christmas when many people mail letters.  Make cards or have people send the children cards
 Survey the class on what they want to be when they grow up.  Make a chart
Make a class book…  When I am big, I will be a ….  You can take pictures with the kids in a hat or a badge.
Play a dress-up relay race.  Have children race to put on community helper costumes, run accross the room, tag their teammate, repeat.
Anyway, today I have a fun printable community helper game for you!  Students try to match the community helper to something the community helper uses/needs…For instance, match the vet with the dog.  You can also play this game using beginning sounds, word families, sight words, letters, math facts, etc.  I give you directions on how to play this game to help reinforce learning concepts!  This game is part of our larger Community Helper Lesson Activity Pack.
How to Grow a Confident Reader
Community Helper Game
1. Enter you email on this form to get your free download
2. Get tips to help you grow a confident new or struggling reader
When you join Mrs. Karle's Sight and Sound Reading
you will learn how to break free from patching together reading lessons
and learn how to grow a confident reader.
If you liked this post, you will also like…
Community Helpers Roll and Cover Game | Simple Fun for Kids
Teaching about Community Helpers to Kids – Printable 3-Part Cards | The Natural Homeschool
Community Helper Time Puzzles | Living Life and Learning
Community Helpers Prewriting Worksheet | Artsy Momma
It's Not easy being a bunny Activities
Not a Box Activities and Lesson Ideas