Free Mother's Day Worksheets for Beginning Readers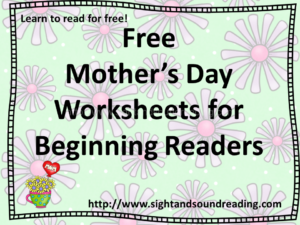 Hello mom!  Would you like to keep your little reader busy so you can relax for a few moments?  We hope so!  We created a few worksheets that will help your beginning reader have a little fun, and, learn a little before Mother's Day.  Not only that, we think you will enjoy the worksheets/coupons after your little reader is finished with his/her project!  Please fill in the form below to sign up for an occasional email from us and to get your free mother's day worksheets for beginning readers.  If you are looking for a cute book for Mothers Day, we like Twas the Night before Mothers Day
and LLama Llama,  I love you
.  Believe it or not, these are some of the first worksheets I made…  I have gotten better over the years, but I still think they are cute and fun for little ones!
Mothers Day worksheets
How to Grow a Confident Reader
1. Enter you email on this form to get your free download
2. Get tips to help you grow a confident new or struggling reader
When you join Mrs. Karle's Sight and Sound Reading
you will learn how to break free from patching together reading lessons
and learn how to grow a confident reader.
If you like this post, you will also like
Worksheet for Kids