Description
Teaching Reading Made Easy!
If you would like to help teach your student to read, this teacher's manual is a step by step guide -everything you need to know and do to help students to reading success. No prep needed, everything is completely scripted and easy! This teachers manual consists of 120 daily lessons that take about 15 minutes a day. The students learn new words to read each day. The sight words build upon themselves and the students gain confidence in reading, while learning sight words, phonics, and comprehension. This teacher's manual is a great supplement to classroom teaching. It is extremely successful with struggling readers.To use with struggling readers, just use this workbook each day for 15 minutes, doing as the lesson plans explain, and before you know it your struggling reader will be confident and eager to learn.
Sight Word Practice Pages
630 pages in all!  Need a fun, interactive activity to help practice sight words? Great practice work for kindergarten, first grade, classroom or homeschool. Perfect for morning work, literacy centers, independent seat work, guided activities and homework!Each worksheet features one of the Dolch sight words. Students read, color, trace, write, spell,and write a sentence for each word.This Back to School has an apple and school bus themed worksheet for each sight word. This packet includes all Dolch sight words for each level -3 pictures for each including the nouns. There are over 630 pages in all!
Teaching the vowels is easy using these phonics worksheets. You can use these worksheets many different ways, but -one way we suggest is to chorally teach the worksheets so that every child is actively involved in sounding out and writing each letter, word and sentence. The teacher is the model that demonstrates how each word is sounded out and spelled. Each child, using his/her own worksheet, chorally makes the sounds as well, writing the letters while following along. Very quickly, children become their own models!
This packet contains all the long and short vowels, including y as a vowel – making the sound e or i. THIS IS A BUNDLE OF ALL OF OUR VOWEL WORKSHEETS.
The types of worksheets included are:
• A Teacher Directed Worksheet: -This worksheet contains several picture words and a few other sight words. Underneath each of the picture words are the words which the teacher will help the student(s) chorally sound out. This worksheet can also be used as a tracing worksheet during a review day.
• A Student Worksheet: This worksheet contains several picture words and a few other sight words. This is the worksheet that the student uses to follow along with the teacher while sounding out each word.
• A Teacher Directed Sentence: After the students sound out each of the pictures and sight words with the teacher, the teacher helps the students sound out and write a sentence about one of the picture words. The teacher uses the teacher directed sentence to help teach sound blending, but also proper sentence structure and punctuation.
• A Student Worksheet for Teacher Directed Sentence: A blank copy of writing paper is included for the students to write their teacher directed sentence.
The program was intended to use these four worksheets in the following way: (You may, however, use the worksheets as desired in your classroom.)
• Chorally sound out/ sound blend and write out each letter of each of the picture words and sight words with the students
• Chorally sound out/sound blend and write out each teacher directed sentence. Make sure to highlight correct sentence format and punctuation: Begins with a capital letter, ends with a question mark (or period when appropriate).
• Have students trace over (and sound out on their own) letters to further reinforce writing and phonics concepts.
You can do these three skills together in one lesson, or, two or three different lessons on different days.
The following skills are reinforced each day the program is used:
• Name of letter being taught as well as individual letters in each word being written
• Sounds of almost every letter (repeated many times each day)
• Sound blending
• Vowel/consonant skill reinforcement
• Sentence structure
• Punctuation
• Concept of word
• Left to right reading and writing
• Letter formation
• Comprehension
• Spelling
• Reinforcement of basic sight words
These worksheets can be used to strengthen reading skills at any primary grade level.
Word Ladder Teacher's Manual
Teachers use Word Ladders to teach and reinforce letter patterns and rhyming, through writing and repetition. This document contains 53 word ladders, as well as word riddles and questions for each word ladder to help strengthen vocabulary development. The riddles and questions encourage children to think about the meaning of the words, as they use them in learning to read. The word ladders will help children eliminate phonetic frustration, and help build their phonics skills, spelling confidence and self esteem. Mrs. Karle's Sight and Sound Reading Program™ offers FREE resources to help teach, strengthen and reinforce reading skills. Mrs. Karle's Sight and Sound Reading Program™ creatively teaches the 250 basic sight words -the words found in 80% of what children read – along with teaching and reinforcing of PHONICS, spelling, punctuation and comprehension
Sight Word Book Bundle
Guided Reading/Literacy Centers/Balanced Literacy…. AWESOME Sight word books to read along with your students, OR, have them read and work on all by themselves.
Included in this bundle are 8 sight word books – each in color and in black/white:
One Red Hat
The Stop Light
I See
The Big Train
Play, Play, Play! (Great for a snow day!)
Monkey See, Monkey Do! (Great to get students moving!)
A Happy Tree (Great to keep students busy)
All Play Ball (Great for spring!)
How to Teach the Alphabet – Teacher's Manual and posters/coloring pages
Teaching the alphabet is easy with these 3 alphabet posters you can laminate and use in your classroom.
The Carousel Alphabet highlights the upper case letters, the lower case letters, the vowels, and the different printed/type font.
Upper case letters are printed above lower case letters.
Vowels have a pink background, consonants have a white background,
Different fonts for the letters a, g, I, J, and t that frequently confuse children are explicitly taught.
This alphabet highlights the three different types of "g"s that frequently confuse children it teaches the children that even though they look differently, they all sound (and are) the same. (Other letters that look differently are the "a", the "I", the "J", and the "t".
A step-by-step guide on how to teach confusing letters upper and lower case, and vowels and consonants is included.
There are three different alphabets included in this packet.
1) A simple learning alphabet without pictures. By introducing this alphabet first, the students are less confused and easily learn upper and lower case concepts, vowels and consonants, and the confusing fonts.
2) A colorful fun carousel alphabet – again with upper case letters higher than lower case letters, pink colored background for vowels and white color for consonants, and animals that highlight the different fonts of each letter that frequently confuse children.
3) A black and white carousel alphabet that children can color.
There are so many fun details and suggestions in this teachers manual and alphabet banner. For instance, on the letter c, there is a centipede that is crawling up the carousel. On the centipede are the letters 'ce/ci/cy' – this helps the students remember that when you see these letter combinations, the 'c' sounds like an 's'. The animals that help teach the letter 'g' are the giraffe and the goat -highlighting the different sounds a 'g' can make.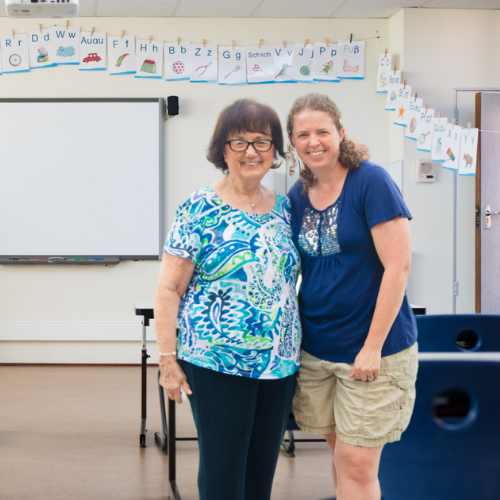 Madreen Karle is a master first grade reading teacher with over 30 years of classroom experience. She taught reading in a special needs and English as a Second Language classroom. After retiring she wrote a reading program to help others learn how to teach reading. She is a trusted educator and author of 5 books to help teach children to read and write. In addition to her books, she is a mentor for 3 websites that give reading teacher tips (Mrs. Karle's Sight and Sound Reading, Mrs. Karle's Reading Patch, and Mrs. Karle's Handwriting Patch). Through her teaching she learned that confidence was the key to learning to read. A child who is not confident at reading does not like to read and struggles to read. Mrs. Karle created "sunshine moments" to help teach children how to grow their confidence and learn to read.
Meeghan Karle Mousaw (Madreen's daughter) has her Master's in Special Education. She has 8 years experience teaching children to read online. In addition, she developed a curriculum to teach children handwriting called The Handwriting Patch. With the Handwriting Patch learning is fun because children learn to draw and learn handwriting at the same time. In 2019 The Handwriting Patch curriculum became an amazon best seller the first year it was released, helping thousands of kids learn handwriting with a unique, fun method. She is mom to 6 kids, each with differently learning abilities and struggles.
The Reading Patch was established by the creators of Mrs. Karle's Sight and Sound Reading. Together they have been featured on the NBC media outlets and Parents Magazine online. Over the last 8 years in their online platform, Madreen and Meeghan have worked tirelessly with teachers, homeschoolers and parents looking to help children learn to read to become a trusted authority in teaching children to read and advocating early literacy skills. They often partner with other educational experts to deliver the most current information to the Reading Patch community.