Stocking Stuffers Board Games
Can you believe it is that time of year again?  Christmas is around the corner and for many that means thinking of serving and giving and presents and stocking stuffers and meals and parties and fun.  I am hoping I can make your life a little easier and give you a few ideas for stocking stuffers, board games, and beyond!

1.  Go Bong! Game  -This is actually a couple games in one…and great for little kids through adults.  It also makes a great travel game because it is small and there are no pieces to it.  It also is great stress relief because as you play you squish the game board and that can be quite relaxing/invigorating/stress relieving.  You can play several solitaire games or challenge an opponent in this fun new game.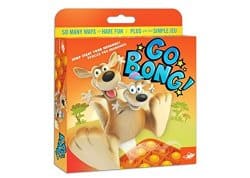 2.  Another idea for stocking stuffers/board games is the Last Mouse Game
.   The mice have just finished feasting and need to scurry into their holes. Don't be the last mouse standing or you might get caught by the cat! Players take turns pressing down any number of mice they wish in a single row. The player who presses down the last mouse loses the round. Whoever wins three of five rounds wins the game!  Small enough for a stocking, does not have a lot of pieces AND, it makes a great car games for trips too.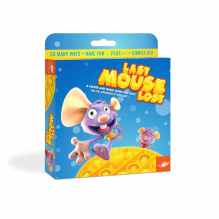 3.  [eafl id=8791 name="Fruit Flies" text="Fruit Flies"] In this fast-paced card game, players each draw a card showing three elements: number, color, and fruit. Players must try to win three cards that each match a different element on the initial card they were dealt.  Small enough for a stocking -and a ton of fun for all ages.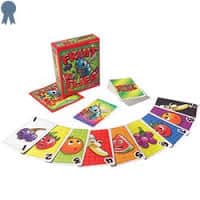 4.  [eafl id=7721 name="Farkel and Grabbage" text="Farkel and Grabbage"]- These are card and dice games…  you can buy together and then split them up into a few different stockings.
5.  
Cranium Brain Breaks Game:
 For instant creative fun anytime, anywhere, it's the Cranium Brain Breaks Game! Draw a Cranium Card from the deck and complete the activity on it before time runs out. Whether you have a minute or an hour, the 200 different activities will tickle your brain! Complete word puzzles, come up with fun facts, sketch and sculpt or act and hum your best to be the winner in this fast-thinking, cranium-teasing game!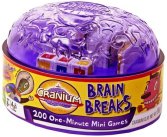 6.   Another great idea for stocking stuffers/board games is the [eafl id=7547 name="LetsChat" text="Let's Chat"] ring and the Are We There Yet? ring.   These are great for mom/dad, grandma or grandpa.  The [eafl id=7547 name="LetsChat" text="Let's Chat"] ring lists conversation topics.  We keep one in our car and one at our dinner table.  Whenever we struggle for conversation or need something to do as we wait for something, we go to the Let's Chat ring for ideas.  The Are We There Yet? ring has fun ideas to do while traveling.  If you have a long road trip or plane trip ahead, these board game rings are perfect.
7.  Another idea for stocking stuffers/board games is Spot It! on the Road
.  This is a fun game because even the little ones can play it while on the road.  You take a card and look for them as you travel.  It is small and easily fits in a stocking! This does contain a bunch of cards, but it really is a great small game to add to a stocking because it is super useful on a road trip!
8.)  Who doesn't love Simon?  This is a great small version of the original game -perfect for a stocking!
9,10, 11.  Uno
!,  SkipBo
! and Phase 10
– Three more card games that are fun to play and fit great in a stocking.  Every few years we usually have to get new ones
So, that is my list of our favorite stocking stuffers/board games.  Do you have any to add to the list.