Distance Learning Resources for Kindergarten
Distance Learning Resources for Kindergarten
Many times teachers need to plan distance learning activities for their classroom.  Whether it be a snow day, or a pandemic (or something in between!),  you want to plan something that is educational, interactive and fun....(and is easy to implement at home).   Today we will explore many different distance learning resources for Kindergarten and beyond!
How to Explain COVID-19 and Social Distancing to kids
First, especially in this crazy time of COVID-19, you may want some resources to help explain the current situation to little people.   To help you answer the question "why distance learning" during COVID-19, consider the following sources to help you:
Types of activities you want to send
You will want to send activities that are easy for the parents to navigate and do.  Perhaps a child has a lot of siblings (or has to work virtually) and won't be able to to spend a lot of time with the child.  You want something that will give at least a little bit of "respite" while the child works.  The parent can help the child get started, work for a little bit, and then do the next activity.  You want to keep things simple.  Parents are scared and afraid that they don't now what they are doing - make things as easy as possible. Here are ways to keep things simple.
Send a check list of what needs to be turned in or done for the day
Send simple activities that parents can start and the child can work on independently (for as long as possible), if at all possible.
Below are some ideas to help you get started!
Send virtual books to read
Children love books ...there are many places you can find a virtual book.
Youtube
You can have parents read a book and record it and send it to the class. This is a fun way for students to connect to each other via video.
Grab a FREE Interactive Google Classroom Activity
Grab some more interactive activities on Google Classroom
Do some fun Letter Recognition Activities
Help Children Express their Social-Emotional side
Distance learning can be a scary time for a child (and for an adult!).  They may have a bad home life/situation, or they may be scared and not sure why you can't go to school.  Whatever the reason, help children express themselves....
Learn how to do video with your classroom
Learn how to do a video with your classroom!  Social Distancing is ROUGH...  and they will love your smiling face.
Check out this awesome tutorial on how to do a zoom video with your classroom.  
Do flipgrid - This is sort of like pinterest for video.  If children have the technology, it is a lot of fun!  Students can create their own videos to share with their classmates.  It is a nice way for students to showcase talents, or show them they understand material.
Help kids learn/practice/remember sight words /phonics/numbers with these ideas
You will also want to send activities that are not online the entire time.  You don't know if a family has a printer, though - so, you will want to give activities the child can do, with materials that the child will likely have.  These are fun ways to help reinforce letters/sight words/phonics with simple materials.
Create a sight word with your body... one letter at a time.
Jumping Jack Sight Words: Using jumping jacks to spell each sight word (1 jump for each letter).
Air Write Words: Have little readers write their spelling/sight words in the air.
Write sight words/spelling words with playdoh -use Playdoh to shape each word.
Write the sight words/spelling words in shaving cream
Write sight words/spelling words in salt
Build with the sight words:  Write letters on Lego bricks and have students build sight words
Use play sand and have students write sight words in the sand.  Great tactile fun!
Do a sight word scavenger hunt.  Put sight words around the room our house and have kids search for them.  You can give clues or even make it into a "write the room" experience...when they find the word, have them write it.
Make Sight Word Rocks - write with a permanent marker on each sight work (or paint it).  You can also gather rocks and build sentences - one word for each rock.
Write sight words/sentences/spelling words in chalk on a side walk
Sight Word/Letter/Sentence Hopscotch:Let's bring hopscotch back! Put a sight word or letter in each square..As little readers hop through, they must say each word/letter as their feet land. See if they can build/jump to sentences.
Sight Word/Letter Tic Tac Toe: My kids always loved this game. Students can play this with siblings or parents... Write the sight words/letters/words you want your little readers to learn. Each time it is their turn, they must say the sight word before putting their X or O in the box.
Play with Hoola Hoops or jump ropes! Kids love to try and use a Hoola Hoop… You can have them spell each sight word/word as they use the hoop, or have the kids crawl through the hoops, tapping each sight word and reading it along the way.
Send them Music:  Sight Word Raps: These can be found on Youtube and make it easy for little readers to sing along and memorize their words.
Send them Music:  Have Fun Teaching has some more great sight word Videos
Send them More Screen Time: Dolch Sight Word Videos.
Learning Fun Time -More YouTube - with sight words/phonics reinforcement
Preschool Prep Company - Sight word and number videos on YouTube
Help kids learn to read/Help struggling readers
Cute, free rainy day math worksheets that can easily be printed and worked on from home
Preschool Prep Company - (YouTube Channel) with math and sight word videos
Play cards to help with number recognition or you can do simple addition and subtraction with the number cards
Have your students cook something! OR, pretend cook - measure water - how many cups to fill a bowl you have.
Count to 100 - (Youtube video)
Addition facts (YouTube video)
Subtraction facts (YouTube Video)
When you subtract with a pirate (YouTube Video)
Have students find coins and identify the value of each coin and how many of each coin they have
Identify, find and share the different shapes in the house
Have children find something they can use as a manipulatives (cereal?  rice?  beans? )  Have them sort it, count it, arrange it into groups of 5, 10, etc
Teach Grades 3, 4, 5?  Here is a neat fraction of a Number activity
Learn how to use Google Slides (for Google Classroom)
Other Fun Ideas to Help Kids
Our Favorte Learning Activities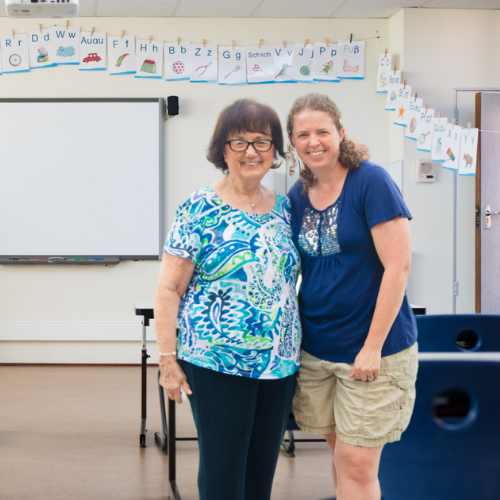 Madreen Karle is a master first grade reading teacher with over 30 years of classroom experience. She taught reading in a special needs and English as a Second Language classroom. After retiring she wrote a reading program to help others learn how to teach reading. She is a trusted educator and author of 5 books to help teach children to read and write. In addition to her books, she is a mentor for 3 websites that give reading teacher tips (Mrs. Karle's Sight and Sound Reading, Mrs. Karle's Reading Patch, and Mrs. Karle's Handwriting Patch). Through her teaching she learned that confidence was the key to learning to read. A child who is not confident at reading does not like to read and struggles to read. Mrs. Karle created "sunshine moments" to help teach children how to grow their confidence and learn to read.
Meeghan Karle Mousaw (Madreen's daughter) has her Master's in Special Education. She has 8 years experience teaching children to read online. In addition, she developed a curriculum to teach children handwriting called The Handwriting Patch. With the Handwriting Patch learning is fun because children learn to draw and learn handwriting at the same time. In 2019 The Handwriting Patch curriculum became an amazon best seller the first year it was released, helping thousands of kids learn handwriting with a unique, fun method. She is mom to 6 kids, each with differently learning abilities and struggles.
The Reading Patch was established by the creators of Mrs. Karle's Sight and Sound Reading. Together they have been featured on the NBC media outlets and Parents Magazine online. Over the last 8 years in their online platform, Madreen and Meeghan have worked tirelessly with teachers, homeschoolers and parents looking to help children learn to read to become a trusted authority in teaching children to read and advocating early literacy skills. They often partner with other educational experts to deliver the most current information to the Reading Patch community.