This is a fall cut and paste beginning sound activity!  Today we are working on the letter B.  Cut and paste the letters and pictures that begin with the letter B and put them onto the fall tree.  This is an example of our beginning sound cut and paste activities…we have them for each season (and one that can work any time of the year!).  Anyway, to find beginning sound books for the letter you are teaching, go here!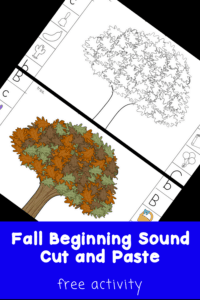 We hope you enjoy this free activity!  To get the free activity, enter your email into the blue box below and it will be auto-emailed to you. If you have any trouble, please contact me at [email protected] and I will help you!
When you become a member of Mrs. Karle's Sight and Sound Reading, you'll learn how to teach struggling readers and writers learn how to make learning to read and write fun.
Fun Letter Fall Placemats!
Check your email for your free download! Enjoy!
If you like this activity, you will also like…
Fall Worksheets
Printable Fall Leaf Activities
Printable Apple Activities
Beginning Sound Worksheets
Kindergarten Holiday Worksheets