Fall is on my mind!  Today I have some fun free fall phonics worksheets!  First, I wanted to let you know about a great book to help teach about the seasons and the changing colors on the trees. ..  The book is called  TREE
and it is a cute book that has an owl sitting in a tree and he sits and watches the seasons change and the new animals that come by and the changes on the tree that occur.    Through a hole in the book's cover and more peekaboo holes throughout, each page reveals a new set of animals playing and living in the tree—baby bears frolicking in the spring, bees buzzing around apples in the summer, squirrels storing nuts in the fall, and finally the lone owl keeping warm during the winter chill—until another year begins. . . .
Tree: A Peek-Through Picture Book
This beginning sound fall phonics worksheet is great for helping reinforce beginning letter sounds.  The students are asked to color the short a words that begin with "c", "b", "r" and "s".  To get your free beginning sound fall phonics worksheets, enter your email into the form below.  You will be added to our mailing list where you will find out about more fun things!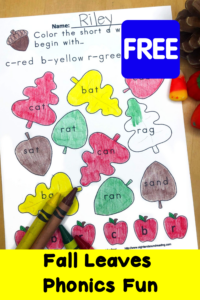 Phonics Worksheet- fall colors
How to Grow a Confident Reader
1. Enter you email on this form to get your free download
2. Get tips to help you grow a confident new or struggling reader
When you join Mrs. Karle's Sight and Sound Reading
you will learn how to break free from patching together reading lessons
and learn how to grow a confident reader.
Want the entire fall activity pack? How about some other fall fun activities?
Grab our Fall Activity Pack (Just $1!)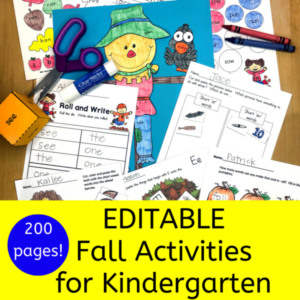 If you like this post, you will also like
Worksheet for Kids