It's Friday again!   That means it is Fun, Free, Phonics Friday here at Sight and Sound Reading.  I am still working on creating a gigantic workbook of activities for each letter of the alphabet….so, today I have a free worksheet brought to you by the letter Bb.  Today students can practice tracing the upper and lower case letter Bb as well as color some objects that begin with b sound.  Make sure your little reader is careful, though, because all the pictures do not start with b -your little reader will have to choose the correct pictures! Please fill out the form below to sign up for an occasional email and to get your free worksheet to teach the letter B.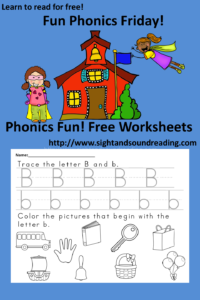 Send me the free download now!
Check your email for your free download! Enjoy!
If you like this post, you will also like
Worksheet for Kids