Free Memorial Day Worksheets for Beginning Readers
Thank you to all those who have served, and who do serve our country, THANK YOU!   We know that freedom is not free.  Thank you for the sacrifices that you and your families make everyday.   We created a few free Memorial Day worksheets to help little readers begin to learn about Memorial Day. Please fill out the form below to sign up for an occasional email and to get your free Memorial Day worksheets for beginning readers.  If you are looking for a good Memorial Day book, a somber but realistic book about the holiday is "The Wall"
.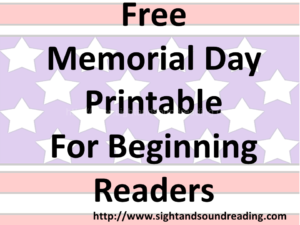 To get your free worksheet, enter your name in the form below. You will be added to our newsletter list where you will find out about great things, like more free worksheets. If you
have any trouble with the download, please email me at [email protected]
How to Grow a Confident Reader
Memorial Day worksheet
1. Enter you email on this form to get your free download
2. Get tips to help you grow a confident new or struggling reader
When you join Mrs. Karle's Sight and Sound Reading
you will learn how to break free from patching together reading lessons
and learn how to grow a confident reader.
If you like this post, you will also like
Worksheet for Kids