Free Phonics Friday: All about me!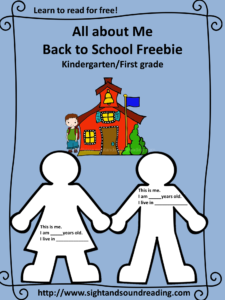 It is free phonics Friday again!  Today we do not have a free phonics activity, but rather a free back to school activity.  A few weeks ago I was going through some of Mrs. Karle's old files and I came across this adorable "paper doll cut-out" book she made with her class.   The book was cut out to look like a little boy, (or a little girl), and the students filled in the blanks to questions she asked within the book.  Her students also would create a little "mini-me" of themselves and make their own paper-doll-cutout little book.  Anyway, I thought this was adorable and I created a All About Me back to school book.    Please fill out the form below to sign up for an occasional email from us and to get a free sample of the book.
All About Me Sample
How to Grow a Confident Reader
1. Enter you email on this form to get your free download
2. Get tips to help you grow a confident new or struggling reader
When you join Mrs. Karle's Sight and Sound Reading
you will learn how to break free from patching together reading lessons
and learn how to grow a confident reader.