If you know me, you know that I love word families.  Word families are great because they increase vocabulary and fluency – it is just fun to read and write all the rhyming words!  Today we have a fun Halloween Word Family Activity!  If you are looking for something else that is neat to help teach word families, I found these
The MEGA-BOOK of Instant Word-Building Mats: 200 Reproducible Mats to Target & Teach Initial Consonants, Blends, Short Vowels, Long Vowels, Word Families, & More!
Halloween Word Family Fun!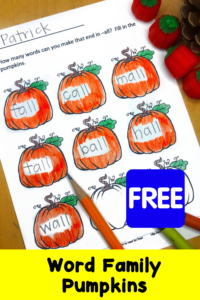 Today our Halloween Word Family Fun as 9 pumpkins on the page.   Students are asked to write  all the word family words they can think of that end with the "all" sound.  How many words can you think of that  end with all?
To get your free Halloween Word Family worksheet fun, enter your email into the form below and it will be sent to you automatically!   You will be added to our email list where you will find out about more fun educational activities.  If you want to be removed from the list, just follow the directions found in your freebie OR, unsubscribe when the first newsletter arrives.  If you have any trouble with your download, please email me at [email protected]
Send me the free download now!
Check your email for your free download! Enjoy!
Grab our Fall Activity Pack (Just $1!)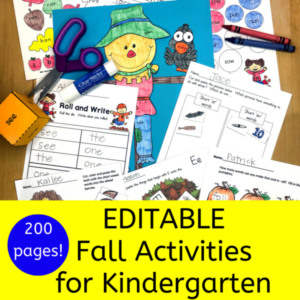 If you like this post, you will also like
Worksheet for Kids