Looking for a few activities to do with your beginning readers for St. Patrick's Day?  We hope so!  We created a few free St Patricks Day worksheets for your preschool or kindergarten student!  We hope that your that your little beginning reader has a wee bit of fun and learns a wee bit too on March 17th!    If you are looking for a fun book to read to go along with these worksheets, I suggest Mr. Mischief and the Leprechaun.  It is super cute.  My kids love to hear about Mr. Mischief and the trouble he gets into with the Leprechaun.  The surprise at the end is a good lesson…  those Leprechauns can be tricky!
The Night Before St. Patrick's Day
How to Catch a Leprechaun
There Was an Old Lady Who Swallowed a Clover!
Mr. Mischief and the Leprechaun (Mr. Men and Little Miss)
&
d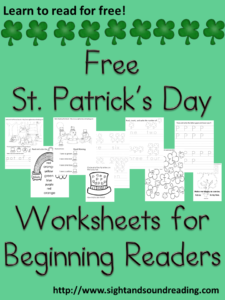 24 Free St Patricks Day Worksheets
To get your free worksheet, enter your name in the form below. You will be added to our newsletter list where you will find out about great things, like more free worksheets.  If you wish to un2subscribe, there are directions in the email on how to unsubscribe from the newsletter. If you have any trouble with the download, please email me at [email protected]
Send me the free download now!
Check your email for your free download! Enjoy!
These worksheets have been added to our freemium membership.
If you like this post, you will also like
Worksheet for Kids