Goal setting worksheet for kids
It is that time of year again….it is the end of the year!  (Or, maybe by the time you are arriving here it is just after the new year!).   When a new year, or month, or day comes around, it is always good to set goals.  I know those days that I don't set goals for myself, I get less done.  Even if my goal is just to sit and do nothing, I feel if I set my goal to do nothing, I feel much better about doing it.  If I write aggressive goals and I shoot for the stars, I usually can accomplish those goals and I feel great about it.  It is good to teach children about setting goals!  One of my children is not so good about doing her chores.  If you make a checklist for her, though, she is great!  When you make specific, measurable goals for her, she loves to get through her checklist.  So, today I thought we would bring you a free goal setting worksheet for kids.  This worksheet is great for kindergarten or first grade.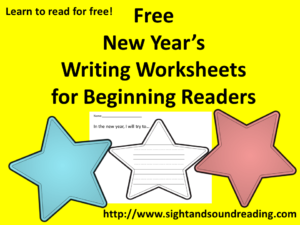 What are your goals in the coming year?  Please leave me a comment and let me know what some of your goals might be.  My goal for Sight and Sound Reading is to grow traffic by 5 times what I get now by JULY.  I am sort of scared of that goal and have no idea if I can do it…but, I am going to try and day by day I hope to get bigger and better.  Anyway…
To get your free worksheet, enter your name in the form below. You will be added to our newsletter list where you will find out about great things, like more free worksheets. If you have any trouble with the download, please email me at [email protected].
How to Grow a Confident Reader
New Years Goal Setting Writing Prompt
1. Enter you email on this form to get your free download
2. Get tips to help you grow a confident new or struggling reader
When you join Mrs. Karle's Sight and Sound Reading
you will learn how to break free from patching together reading lessons
and learn how to grow a confident reader.
If you like this post, you will also like
Kindergarten Writing Prompts