As you may remember from my last post (with the free Groundhog Day worksheets), I am secretly a fan of Groundhog day.  I won't tell if you won't tell…  (Okay, maybe the secret is out that I like Groundhog day.)   ANYWAY, I have an awesome Groundhog Day activity for kindergarten...but, really it can be modified for different levels and abilities.   I did the activity with my children ages 2, 5, 7,  and 9.  This is a great activity to build reading fluency..  help children ready things more quickly and accurately, and, have a fun time doing it!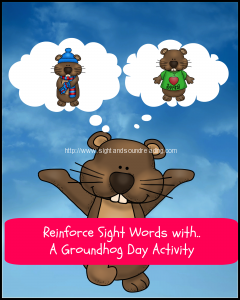 Groundhog Day Activity
First we read a Groundhog Day book.  There are a few books we love:
Substitute Groundhog: -This is a cute book about what happens when Groundhog is sick on his big day:  It's almost Groundhog Day! But this year Groundhog is not feeling well. Dr. Owl diagnoses him with the flu and orders two days of bed rest. Then Groundhog has in idea–he can hire a substitute! Maybe Squirrel can be the substitute, or Eagle, or Bear.
OR
Groundhog Day! by Gail Gibbons is a cute book that is perfect to help explain Groundhog Day.  Every February 2, people all across the country wonder about the groundhog, Punxsutawney Phil. Will he see his shadow on that day or won't he? Will spring come early or late? Here is information about Groundhog Day, its origins, and the animal at the center of this delightful annual event.
Next we colored a picture of a groundhog. (Even daddy got into the fun).  Then we cut out and taped the groundhog to a pencil. (We would have used a Popsicle stick but we couldn't find any..)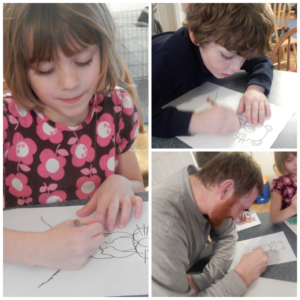 I then made flashcards with sight words on them.  My 5 year old is currently on Day 20 of our learn to read free program.  He recently learned the sight words "up" and "down".  This activity was a perfect opportunity to practice those sight words, as well as a few others.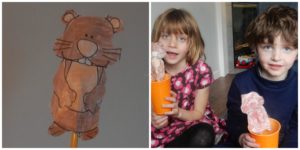 We put a whole in the bottom of a Solo Cup (This is not easy to do, I would recommend using a styrofoam cup).  Then, we put the groundhog on the pencil down through the cup.  I then held up flashcards of the words up and down and my children had to move the groundhog up or down accordingly.
We also did this with the sight words "in" and "out".  Then, we added a smaller groundhog and added big and little.  And we did big up, little up, big down, little down, etc.  For the older children, they colored two groundhogs:  one with winter clothing and one with spring clothing.  We pasted them on opposite sides of the pencil and we would do winter and spring. My two older children are learning Spanish, so we did their activity in Spanish!  invierno, o primavera?  arriba o abajo?
I then wanted to make the activity more kinesthetic.  I would hold up the flash cards and the children would bend down or jump up whether the sight word said up or down.  If the sight word said 'in' they jumped forward, and 'out' jumped backward.  We also added the word "around", and they spun around with their groundhogs.
Who knew you could have so much fun with a ground hog?
To get your free groundhog day activity toolkit, enter your information below.  You will be added to our email list where you will find out about more good things, like more fun freebies.
 [wp_eStore_free_download_squeeze_form id=61]
If you like this post, you might like: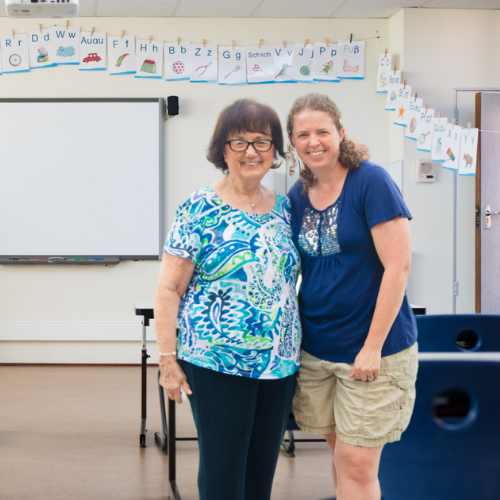 Madreen Karle is a master first grade reading teacher with over 30 years of classroom experience. She taught reading in a special needs and English as a Second Language classroom. After retiring she wrote a reading program to help others learn how to teach reading. She is a trusted educator and author of 5 books to help teach children to read and write. In addition to her books, she is a mentor for 3 websites that give reading teacher tips (Mrs. Karle's Sight and Sound Reading, Mrs. Karle's Reading Patch, and Mrs. Karle's Handwriting Patch). Through her teaching she learned that confidence was the key to learning to read. A child who is not confident at reading does not like to read and struggles to read. Mrs. Karle created "sunshine moments" to help teach children how to grow their confidence and learn to read.
Meeghan Karle Mousaw (Madreen's daughter) has her Master's in Special Education. She has 8 years experience teaching children to read online. In addition, she developed a curriculum to teach children handwriting called The Handwriting Patch. With the Handwriting Patch learning is fun because children learn to draw and learn handwriting at the same time. In 2019 The Handwriting Patch curriculum became an amazon best seller the first year it was released, helping thousands of kids learn handwriting with a unique, fun method. She is mom to 6 kids, each with differently learning abilities and struggles.
The Reading Patch was established by the creators of Mrs. Karle's Sight and Sound Reading. Together they have been featured on the NBC media outlets and Parents Magazine online. Over the last 8 years in their online platform, Madreen and Meeghan have worked tirelessly with teachers, homeschoolers and parents looking to help children learn to read to become a trusted authority in teaching children to read and advocating early literacy skills. They often partner with other educational experts to deliver the most current information to the Reading Patch community.