Halloween Phonics Fun: Free Worksheet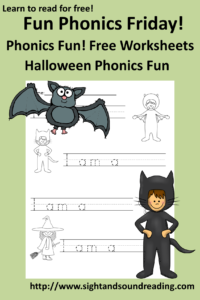 It is Friday again…  time for another free Phonics worksheet!  Today we are preparing for Halloween.  I don't know about you, but my children love to play dress-up.  It is fun to watch them transport themselves to imaginary lands and become fun animals, or princesses or pirates.  One thing I like to do to save money on costumes is I go shopping the day after Halloween and buy costumes on sale.  These costumes become Christmas gifts, and then become a favorite during play time.  In today's free phonics worksheet the children are asked to write and finish four sentences: "I am a….." What will you be for Halloween?  Please fill out the form below to sign up for our newsletter and to get your free worksheet.
Halloween Phonics Costume Worksheet
1. Enter you email on this form to get your free download
2. Get tips to help you grow a confident new or struggling reader
How to Grow a Confident Reader
When you join Mrs. Karle's Sight and Sound Reading
you will learn how to break free from patching together reading lessons
and learn how to grow a confident reader.
If you like this post, you will also like
Worksheet for Kids