Happy Halloween! Free Worksheet
Happy Halloween!  Well…the last day of October is here and ghosts and goblins are out in action!  Before they head out, or maybe when they get home, here is a free Halloween worksheet that is great for kindergarten or first grade!  Children can sound out the words and fill in the blanks.  Next week we will be getting ready for Thanksgiving.  Have a SAFE Halloween!   Please feel in the information below to be added to our email list and to get your FREE Halloween Worksheet!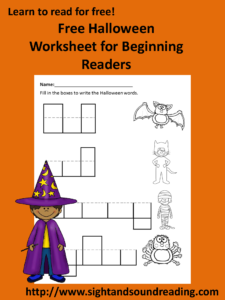 How to Grow a Confident Reader
1. Enter you email on this form to get your free download
2. Get tips to help you grow a confident new or struggling reader
Halloween Write a Word
When you join Mrs. Karle's Sight and Sound Reading
you will learn how to break free from patching together reading lessons
and learn how to grow a confident reader.
If you like this post, you will also like
Worksheet for Kids