How to teach the sight words
As many of you know, Mrs. Karle's learn to read for free program teaches children to ready by introducing new sight words each day.  When children feel confident about the words they have learned, the student then moves on to the next day to learn the new words that she introduces.  Children slowly learn and build on their new sight word vocabulary, learning to read at the same time!  Mrs. Karle also weaves phonics into her lessons so the student not only learns sight words, but phonics in the context of each daily story.  Here are a few suggestions on how to teach the sight words.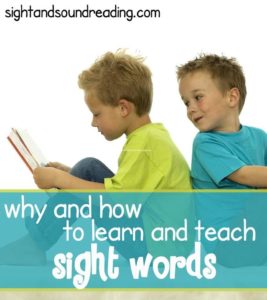 Why is it important to learn sight words and how should students learn to read them?  Here are a few facts about sight words that will help show you why it is important to have a focus on sight words while teaching a child to read:
Many sight words cannot be sounded out phonetically – students need to know them by sight.
Eighty percent of the words that children read are sight words.  If children know these words fluently -they will read correctly (at least!) 80% of the time.  This will give the student confidence in reading and the children will like reading because they will feel good at reading.
There are a few sight words lists that teachers use when teaching reading:  Dolch sight words and Fry sight words.  Mrs. Karle's program uses a combination of the two programs.  Upon completion of the 120 day program, children will likely be reading at a second grade level.
How should you teach the sight words?  Should you teach them out of context (like through flash cards), or, should you teach them in the context of a story?  Sight words should be taught in context of a story or sentence.  Students will learn and retain the new word more easily when they learn to read it in context.  Students learn that the sight word has meaning, and that reading has meaning.  When reading comes alive, students want to read more to know more.   Reading the sight words in context is not simply reading to memorize and forget, but rather reading the sight words is reading learn and remember.
Sight words are a great tool when teaching reading.  They help a child build confidence and, when taught in context, help a child to understand that reading has meaning.    Starting of Day 1 of our learn to read for free program you will see how introducing these words in context makes learning to read easy and successful for both beginning and struggling readers.
If you like this post, you will like