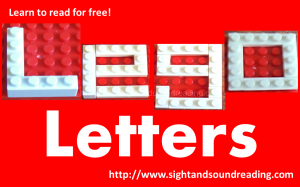 A few weeks ago my four year old came up with a great idea for a fun activity…  "Look mommy, I made the letter Y", he yelled.  I looked over -and, sure enough -he had made the letter Y out of his blocks!    He was so proud!  I took his picture and made a mental note that making Lego letters may be a fun activity for him.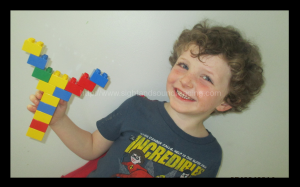 Fast forward a few weeks…  and I finally got the perfect chance to make letter Legos with my little man.  He has 2 siblings underneath him, so we rarely get the opportunity to play with the little Legos.  I don't want his little siblings to put little Legos in their mouth.  His 2 year old brother went on an errand with Daddy and his baby sister was napping, so, I brought out the little Lego blocks and asked him to make letters with me.  He was so excited.  At first making letters out of Legos was challenging.  He tried making 3-dimensional letters. All the angles and curves made making 3D letters pretty challenging.  He did an OK job with the letter – E, but, he wan't really thrilled or proud.  I think if we had tried with the larger blocks the letter E may have been more recognizable…  we'll have to try that another day!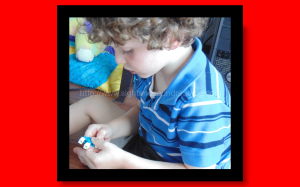 I then suggested he try to create letters on one of the flat Lego pieces.  We chose a red flat Lego to serve as our "paper", and he started to build letters!  He started with the letter O.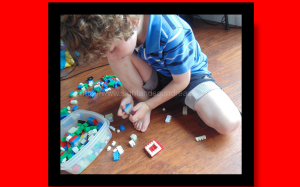 He then tried the letter A…that was pretty cool too!
He then moved on to the capital letter B….  he also said this looked like an "8".   Looks like you can make numbers with Legos too!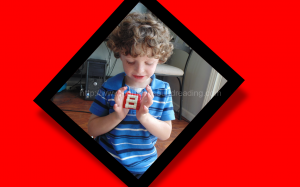 Finally, he helped mommy spell the word "Lego".  I made sure that he started the word Lego with a capital letter L, and then followed with all lower case letters.   This was another great chance of emphasizing when you use upper case or big letters, and when you use lower case letters.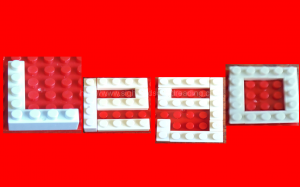 We had lots of fun making Lego letters together.  The next time I hope we can write his name in Legos!
If you liked this post, you will also like: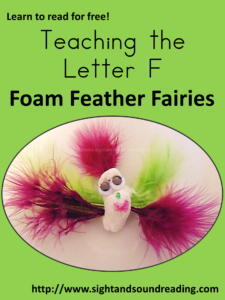 Kindergarten Teaching Ideas