Name Writing Practice Activity: Stocking Edition
We have a super fun free worksheet for you that your little one will love!  I love to find creative ways to help children learn to write and practice their name. I give a few tips here—>  how to teach your child to write their name.,,, and, today I have a fun worksheet to help with name writing practice!   I thought that it would be fun for you little one to practice writing their name on the stockings!  You could also practice writing other people's names on the stockings as well.  Remember when you are helping your little one to write their name to make sure to teach him to start with a capital letter and then the rest of the letters are lower case.  Most children seem to initially learn and write in all capital letters.  Continue to reinforce that most letters that you read and write are lower case letters.  These stockings are also great for fine motor practice…the name spot can be small, especially for those with a longer name.  Holding the pencil and practicing name writing in such a tiny space is a great fine motor challenge as well!   When I am helping a child learn to write, I sometimes use tracing paper,or a cool tracing light to make things fun!  Here are a few of my favorite tools!
ALEX Toys Artist Studio Tracing Paper (9×12)
Darice 9-Inch-by-12-Inch Tracing Paper, 100-Sheets
Crayola; Light-up Tracing Pad; Blue; Art Tool; Bright LEDs; Easy Tracing with 1 Pencil, 12 Colored Pencils, 10 Blank Sheets, 10 Tracing Sheets
School Specialty Handwriting Paper – 1/2 Rule, 1/4 Dotted, 1/4 Skip – 8 x 10 1/2 inch – 500 Sheets
Pacon Multi-Program Handwriting Paper, 10 1/2
&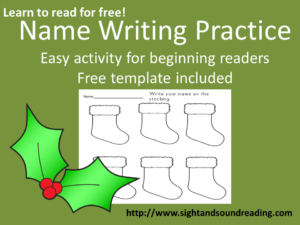 To get your free worksheet, enter your name in the form below. You will be added to our newsletter list where you will find out about great things, like more free worksheets. If you have any trouble with the download, please email me at [email protected]
How to Grow a Confident Reader
Name Writing Stocking Practice
1. Enter you email on this form to get your free download
2. Get tips to help you grow a confident new or struggling reader
When you join Mrs. Karle's Sight and Sound Reading
you will learn how to break free from patching together reading lessons
and learn how to grow a confident reader.
If you liked this post, you will love: