Noodle Letters and Cream Sauce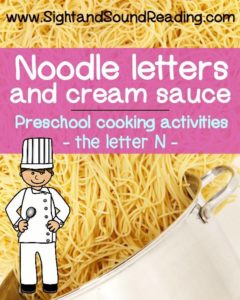 I first wrote this post as a guest post of the Crafty Side of Sarcasm.  Please check out this fun blog recipes, savings ideas, crafts and more!  
Today I thought it would be fun to make noodle letters and cream sauce.  First  – make your noodles.  I used angel hair pasta, but spaghetti or fettuccine may work better or just as well.  When I cooked my noodles, I added some olive oil to the water so that they did not stick together.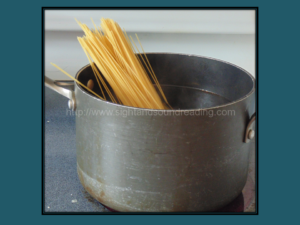 After cooking and draining the noodles, I rinsed a handful of them with cool water so that the children did not burn their hands.  I then gave each child a cutting board (or plate would work well), and we started making our letters!  My son started making the letter K, and I told my daughter to make a sight word.  They got right to work!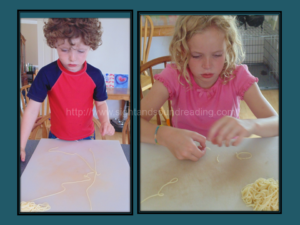 This was a great activity to help reinforce the letters for my 4 year old son.  It was also a great fine motor activity…picking up and stretching little noodles can be a little tricky.  My 8 year old daughter had fun by writing the sight word 'and'.  If we had done this activity during the school year, I would have asked her to write her spelling words.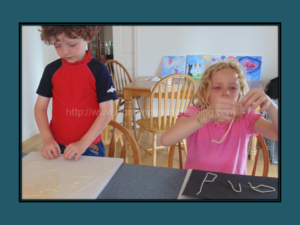 After making our noodle letters, we had a delicious meal with the remaining noodles we did not use …  below is our favorite recipe for cream sauce…  It is a must try!  Also, please note:  Do not double this recipe.  If you want to make more of it, you need to make 2 batches.
Ingredients:  
1 stick of butter
1 pint whipping cream  (1/2 a quart of whipping cream)
1 small can tomato paste
3 cloves garlic (chopped up)
1 small onion (chopped up)
salt and pepper to taste
Directions:
In a double broiler, cook all ingredients for 1.5 hours.  This recipe can be frozen or made the day before.
This recipe is a family favorite, and the directions I have are that simple.  Basically you chop up the onions and garlic and place in a pot with the butter.  Cook that until they brown a little.  Then add the whipping cream and the tomato paste and cook for 1.5 hours over a double broiler.  (Submerge your pot with all the ingredients in a pot of boiling water and leave boiling/cooking for 1.5 hours).