Printable Veteran's Day Cards
Veteran's Day is an important holiday. It is a day to honor, thank and remember those who serve and have served. Freedom is not free and those who serve or served in the military sacrifice daily to serve, protect and defend us. As a Veteran's Day Lesson Plan, one easy way to teach about the holiday is to thank a veteran or member of the military. For this reason I have created some free Printable Veteran's Day Cards for you today.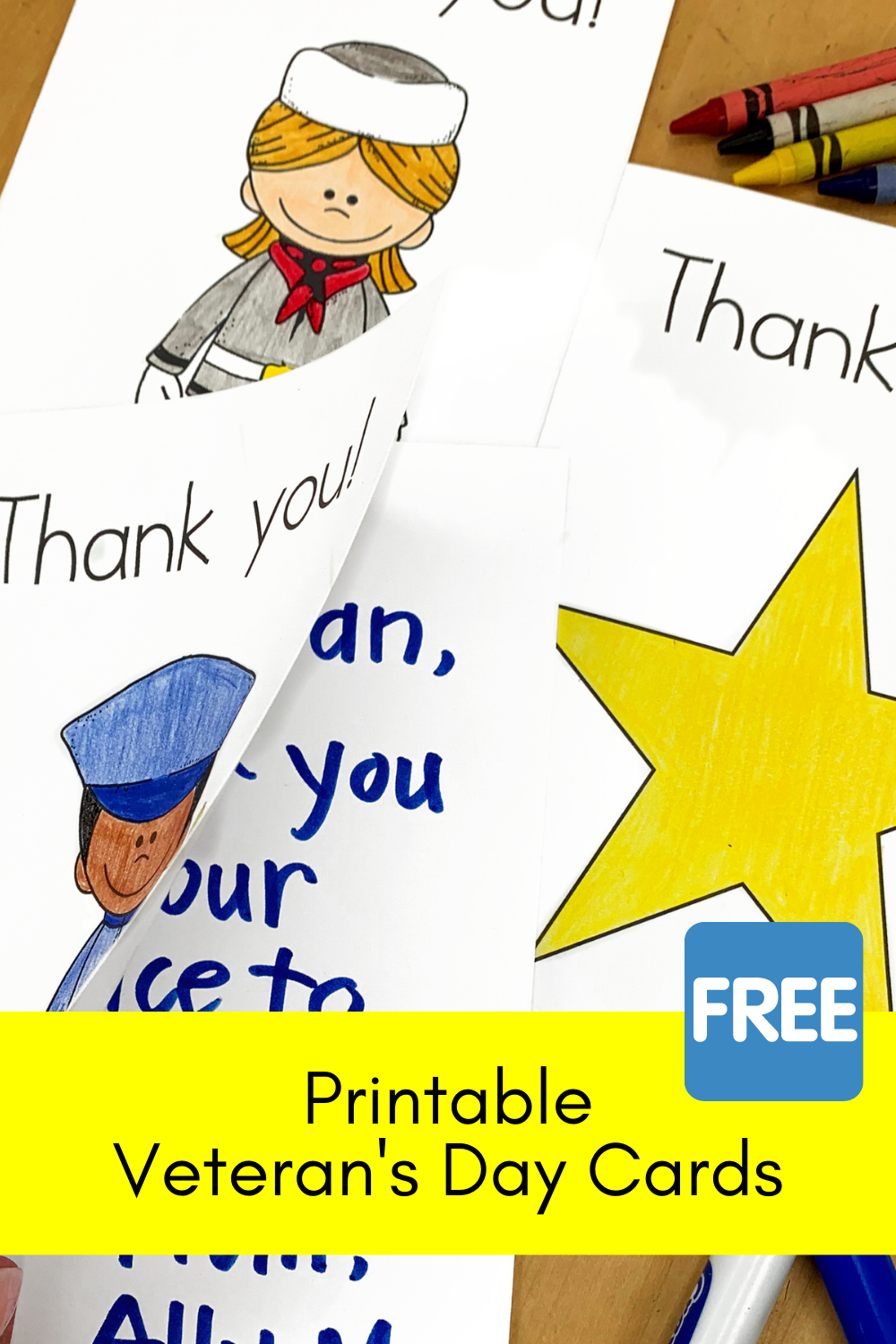 Printable Veteran's Day Cards
Children usually know that it is a good idea to say thank you. If someone gives you a gift or an ice cream, it is good to say thank you and show that person you appreciate that they thought of you or helped you. Ask the children about a time when they think they should say thank you and ask them why they should say thank you. Transition them into …"would you ever think to thank a soldier"… Why would you do this? How do they help us?
If you can, invite a Veteran to come and meet your little student. This can be a current service member you may know, or a service member from long ago. Contact a local American Legion or Marine Corps league. I have arranged a service member to come in and talk to the class about the flag and how to respect it. I would not hesitate to find someone to come and talk about their service.
Then the children can work on a writing activity and thanking veterans. I am thankful for Veterans because… you keep me safe. You help me. You make me feel safe. Print out the Printable Veteran's Day Cards and have the students write on the cards and color/decorate the cards. Check out these websites to figure out where to send your letters:
A Million Thanks
Write Letters to Soldiers
Teach the children a patriotic song: America the Beautiful, the Star Spangled Banner. Teach them the Pledge of Allegiance.
Some great books to go along with a Veteran's Day lesson include….
Veterans: Heroes in Our Neighborhood
Don't Forget, God Bless Our Troops
The Wall (Reading Rainbow Books)
Hero Dad
Hero Mom
Pepper's Purple Heart: A Veterans Day Story
Granddad Bud: A Veterans Day Story
These are good books that help teach children what Veteran's do. It helps give them a greater appreciation for them -instead of a sort of intangible/hard to understand concept (and big vocabulary word: Veteran!). The Book The Wall is a sad story and very sobering -but, nonetheless important. (It makes a great book for Memorial Day), but can be used for Veteran's Day too!
In the packet there are 12 cards in all. They are in black/white and in color.
To get your copy of the free Printable Veteran's Day Cards, enter in your email into the form below. You will be added to our mailing list where you will find out about other fun things like freebies. If you have any problems with your Printable Veteran's Day Cards/download, email me at [email protected] -I am happy to help.
How to Grow a Confident Reader
Printable Veteran's Day Cards
1. Enter you email on this form to get your free download
2. Get tips to help you grow a confident new or struggling reader
When you join Mrs. Karle's Sight and Sound Reading
you will learn how to break free from patching together reading lessons
and learn how to grow a confident reader.
If you want to go further in depth when you are teaching about Veteran's Day, check out our Veteran's Day writing prompts!