As you have probably noticed, I am a big fan of reading readiness.   I love when children are ready to read because once they are ready to read, they can start our learn to read free program, and once they start our learn to read free program, children get to experience the  magic of reading!  Reading teaches you new things and takes you on adventures and instructs you how to do things.  Today I wanted to show you a few fun, active reading readiness games you can play with your little ones indoors so that you can get your child ready to read.
Reading Readiness Games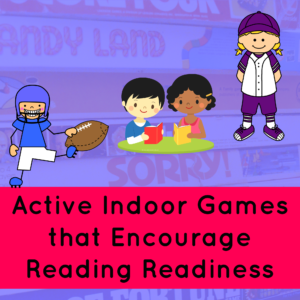 The first game we played involved no prep at all.  My children love to run in circles around the house.  Our home has a natural "circle" around the living room/kitchen area.  They enjoy chasing each other around this circle.  I let them do this because it does tire them out when they are cooped up inside.  I call out a letter, and an action and all the children follow the leader.  If I say Letter A!  Skip!  All the little ones skip while saying A!  Ahh!  A!  Ahh!  This activity is too easy for my 9 and 7 year old, but they are not the ones getting ready to read!  They love to lead, though, and the younger ones love to follow, repeat and learn.  You can do this with all the letters of the alphabet, if you wish. Then, you can start on word families!  Have your children call out rhyming words:  Call!  Ball!  Tall!  Fall.  Even if the words are nonsense words, it is great to have your child learn to rhyme and hear sounds.
The next thing I did to set up our active games was to take some painters tape and tape a hopscotch grid on the floor, as well as a grid of a ladder on the floor, and also a "bulls-eye" on the wall.  Next, I made flashcards with letters.  Probably the best and easiest thing you can do is to make flashcards using "post-it" notes, because then the letters will naturally stick to the wall or the floor.  You could also write with chalk, if you wanted too!  (Here is a picture of the games I set up:  Sorry, as you may remember, my computer caught on fire..  the current software on the computer I am using is not making my photos look too nice!…  )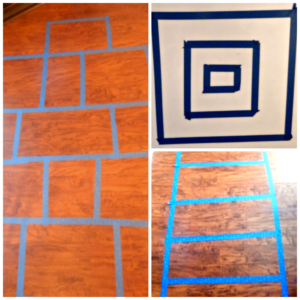 Next, the children played hop scotch, saying the letters or their sounds.  Sometimes I had the students just pick up the vowels, other times I had them pick up the consonants.  My older children wanted to make the game more challenging and so they would say the letter, the sound, and a word.  A, apple, Ah!
For the ladder that we made on the floor, we jumped from square to square spelling words.  My older two worked on their spelling list.  My two year old worked on spelling his first name and my five year old worked on spelling his last name.  I would have them all shout the letters together.  By chorally yelling together, the children have more fun and learn from each other.
For the "bulls-eye" on the wall, we worked on concept of letter for my little one.  We put words that were one letter long in the middle, words that were two letter words in the middle ring, and words that were three letters long around the edge of the target.  With my five year old, we sorted word families into three different groups.  We also sorted words into vowel sounds.  Another thing we did with the bulls-eye was we rolled socks and threw them at the wall to try and hit words.  Whatever word the sock hit, the child had to run over, pull the word off the wall, read it and spell it.  (Check out how fast the kids are moving..you can barely see them!)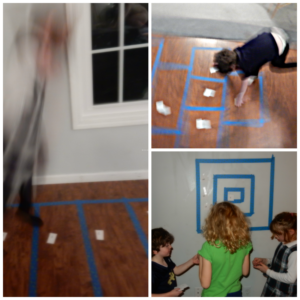 And…  so  long as you are throwing socks, you might as well have an indoor snowball fight with socks…
Need another active indoor game idea?  Here are a few great ones!
Active Indoor Game:  Land, Sea and Air
 from What we do All Day 
Balloons:  10 Easy Indoor Activity Ideas
 from Betsy's Photography
Family Game Night:  Build a Letter
 from Growing Book by book
Mini Trampoline and Jumping Activities
From Barefoot on the Dashboard
LEGO rockets, math activity
From Creekside Learning
Bean Bag Toss
From The Gingerbread House
Run and Find Syllables Game
From This Reading Mama
Igloo Building
 From Study At Home Mama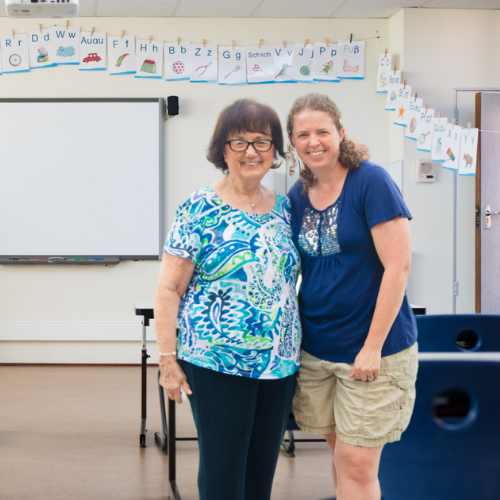 Madreen Karle is a master first grade reading teacher with over 30 years of classroom experience. She taught reading in a special needs and English as a Second Language classroom. After retiring she wrote a reading program to help others learn how to teach reading. She is a trusted educator and author of 5 books to help teach children to read and write. In addition to her books, she is a mentor for 3 websites that give reading teacher tips (Mrs. Karle's Sight and Sound Reading, Mrs. Karle's Reading Patch, and Mrs. Karle's Handwriting Patch). Through her teaching she learned that confidence was the key to learning to read. A child who is not confident at reading does not like to read and struggles to read. Mrs. Karle created "sunshine moments" to help teach children how to grow their confidence and learn to read.
Meeghan Karle Mousaw (Madreen's daughter) has her Master's in Special Education. She has 8 years experience teaching children to read online. In addition, she developed a curriculum to teach children handwriting called The Handwriting Patch. With the Handwriting Patch learning is fun because children learn to draw and learn handwriting at the same time. In 2019 The Handwriting Patch curriculum became an amazon best seller the first year it was released, helping thousands of kids learn handwriting with a unique, fun method. She is mom to 6 kids, each with differently learning abilities and struggles.
The Reading Patch was established by the creators of Mrs. Karle's Sight and Sound Reading. Together they have been featured on the NBC media outlets and Parents Magazine online. Over the last 8 years in their online platform, Madreen and Meeghan have worked tirelessly with teachers, homeschoolers and parents looking to help children learn to read to become a trusted authority in teaching children to read and advocating early literacy skills. They often partner with other educational experts to deliver the most current information to the Reading Patch community.