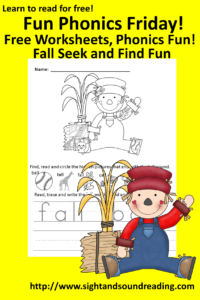 It is Friday again!  Like every Friday we have a free phonics worksheet.  Today we have a fall theme.  We also have the children seek and find the phonics sounds!  Children get to read, find and circle the pictures for the 'all' word family:  ball, tall, fall, small, call, mall.   If you like this worksheet, we also offer a similar workbook in our store:  Seek and Find the phonics sounds.   If you wish to get your free phonics worksheet, please fill out the form to sign up for our occasional email.  What is your favorite  fall activity?
Send me the free download now!
Check your email for your free download! Enjoy!
Like the illustrator of this project?  Check out
[eafl id=6234 name="ScrappinDoodles" text="ScrappinDoodles"]