This post originally appeared on The Good Men Project.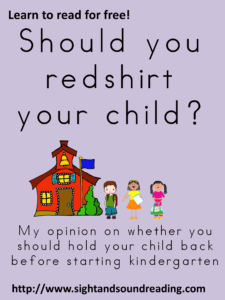 Does a high success rate in kindergarten all come down to your child's birthday?  I am inclined to say yes, and here is why: Redshirting is the term used to describe when a parent delays her child's entrance into kindergarten by one year so that the child can grow socially, emotionally, intellectually, and physically. It usually occurs when the child's birthday is very close to the cut-off date for school entrance and if the child entered on time, he would be the youngest in the class. Many times redshirting is discussed more specifically for 5 year old boys.
Typically boys mature more slowly than girls and redshirting a boy will give him a year more of maturity to help him with his studies. Take for example a boy born in early July, 2009. In July 2014 the boy would be 5 years old and qualified in most states to start kindergarten. At the same time there is another child in that boy's classroom born in early August 2008 who did not make the cut-ff to enter kindergarten in 2013. In the same classroom we have a new five year old, and a six year old. The six year old is one year older, wiser, and stronger. By the time both these children are seniors in high school, the older child will be bigger and stronger in athletics, but, will the child be more successful academically as well?
Whenever I'm asked whether or not to hold a child back, I always answer a resounding "yes." I firmly believe that holding a child back helps the child to grow socially and intellectually giving the child added confidence to assist him with learning. For instance, when you are teaching a child to read it is so important that the child have confidence with reading while learning. If a child struggles while learning, he loses confidence with reading. Little confidence leads to a child disliking to read. When a child dislikes reading, he does not like to learn to read. When teaching a child to read, it should come easy to the child. If a child is not ready to read intellectually, he will struggle and the downward spiral of self confidence and disliking reading begins. For this reason, I think it is always better to allow a child to grow more and become more reading ready, and ready for other kindergarten activities.
What if it is clear the child is ready to read? I still believe the child should wait to enter school. In fact, I encouraged a child to wait for entering kindergarten even though he was already reading and understanding at a high school level. In this case the child was clearly gifted and would be throughout his years of schooling. I wanted the child to be able to emotionally and socially handle his giftedness. I wanted the child to be confident and proud of his abilities and be able to handle any criticism from peers. Holding this child back immensely helped him socially and emotionally as he grew older, and his parents were thankful for the decision they made.
What does research say, though, on the long term effects of redshirting? Is redshirting really a clear-cut decision? Research on the long term effects of redshirting has mixed results. Proponents and opponents study the same data on long term effects and come to different conclusions on the value of redshirting. Often, too, with educational research, it is difficult to conclude the correct answer because every child is unique, every classroom is unique, every school is unique and every situation is unique.
What, then, is a parent to do when trying to decide when a child should enter kindergarten? I would propose that you look at your child's unique situation and determine what you believe is best for him. Some questions you may want to ask include:
 Is my child ready to read?
How has my child done in pre-school in relation to his peers? Ask the child's preschool teacher if he is ready to attend school
Visit the child's future kindergarten classroom and get a feel how well you think a child would do in the classroom. Have the future kindergarten teacher meet with your child.
Is your child shy? Do you think kindergarten will be an overwhelming experience for him?
Speak to your child's pediatrician. Doctors see children on a daily basis and he/she may be able to provide insight on your child's development in relation to peers.
Is your child independent? Can he follow directions without too much "nagging."
Does your child play well with other children?
Are you ready for your child to go to kindergarten?
Will your child excel and work hard trying to be the best in the class or will he become frustrated and lose confidence if he 'fails'?
I have had to make the decision once so far with my daughter. It was clear to me that redshirting would be best for her. She was shy in preschool and she struggled learning letters and letter sounds (more so than her older sister). She would get frustrated when she wasn't the best and she would lose confidence in her abilities. Holding her back helped her tremendously. She entered kindergarten still a shy child but when she saw she was reading better than her peers she became confident and more outgoing. Even with redshirting she was not the top of her class but she felt good about going to school each day. I am happy with the decision I made for her.
What does your instinct tell you about what is best for your child? Parents usually do not regret redshirting their child, but many times parents do regret sending their child early. Once a child starts school and struggles, it is difficult to hold back the child and have him repeat a grade. These are all things to consider. Ultimately the decision is yours, and you know what is best for your child.
If you like this post, you will like…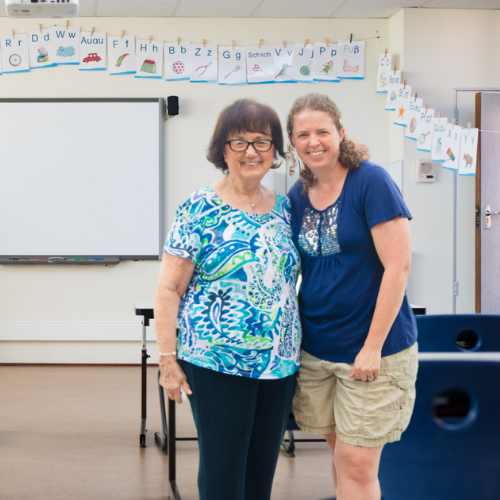 Madreen Karle is a master first grade reading teacher with over 30 years of classroom experience. She taught reading in a special needs and English as a Second Language classroom. After retiring she wrote a reading program to help others learn how to teach reading. She is a trusted educator and author of 5 books to help teach children to read and write. In addition to her books, she is a mentor for 3 websites that give reading teacher tips (Mrs. Karle's Sight and Sound Reading, Mrs. Karle's Reading Patch, and Mrs. Karle's Handwriting Patch). Through her teaching she learned that confidence was the key to learning to read. A child who is not confident at reading does not like to read and struggles to read. Mrs. Karle created "sunshine moments" to help teach children how to grow their confidence and learn to read.
Meeghan Karle Mousaw (Madreen's daughter) has her Master's in Special Education. She has 8 years experience teaching children to read online. In addition, she developed a curriculum to teach children handwriting called The Handwriting Patch. With the Handwriting Patch learning is fun because children learn to draw and learn handwriting at the same time. In 2019 The Handwriting Patch curriculum became an amazon best seller the first year it was released, helping thousands of kids learn handwriting with a unique, fun method. She is mom to 6 kids, each with differently learning abilities and struggles.
The Reading Patch was established by the creators of Mrs. Karle's Sight and Sound Reading. Together they have been featured on the NBC media outlets and Parents Magazine online. Over the last 8 years in their online platform, Madreen and Meeghan have worked tirelessly with teachers, homeschoolers and parents looking to help children learn to read to become a trusted authority in teaching children to read and advocating early literacy skills. They often partner with other educational experts to deliver the most current information to the Reading Patch community.