Starting the school year with a positive classroom experience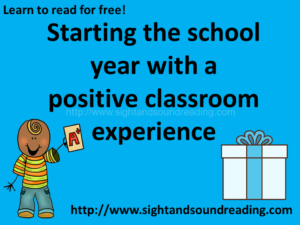 Today I wanted to share with you what Mrs. Karle used to do at the beginning of the school year to build a positive classroom experience.  Mrs. Karle found that using this system she could motivate her reluctant and struggling readers.   She never had any issues with students not wanting to read.  She truly felt that if you gave students the confidence to read, and you created a positive learning environment, then the students would love learning and love reading.
As you know, every night the children using Mrs. Karle's learn to read for free reading program have homework to do.  The students take their daily reading worksheet to read to their parents, or caregiver.   After reading their homework to someone at home, their parent or caregiver would sign their worksheet, and then the student would return the worksheet back to Mrs. Karle the next day.  The students would love to bring home their reading worksheet because they got to opportunity to share with someone at home how good they were getting at reading!
When the students returned with the worksheet the next day, they would receive a star on their chart.  After five stars, the students got to select a prize from the treasure box.  The treasure box is similar to something you might find at a dentist office after a good visit:  it contains  little trinkets and fun goodies that kindergarten and first graders love to earn.  Mrs. Karle's chart and treasure box definitely helped create a positive and fun classroom experience for both the students, parents, and teacher.  It also helped motivate reluctant and struggling readers.