Thanksgiving books for children
This post contains affiliate links.
With Thanksgiving around the corner, I wanted to post a few of my favorite Thanksgiving books for children.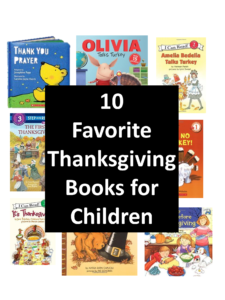 The first few books are great for beginning readers!  We love Biscuit in our home – easy to read, and great for building confidence in little readers.  Amazon says:  Biscuit has so much to be thankful for on his first Thanksgiving. How will he and the little girl spend this special day? Pull back the flaps to find out!
We love the "I can Read!" series in our home…  another one that is easy to read and helps build confidence in a new reader!  Amazon says:    It's time for turkey! The parade is about to start. The pumpkin pie is in the oven. The whole family is gathered around the table. And everybody wants to pull the wishbone! From Children's Poet Laureate Jack Prelutsky comes a scrumptious helping of twelve Thanksgiving poems to enjoy every day of the year!
My second grader loves Amelia Bedelia… It is great that it is an easy reader too!  Amazon says:  When Amelia Bedelia helps out with the school Thanksgiving play, she causes quite a scene. Let's all give thanks for another funny new Amelia Bedelia story!
Noodles is another family favorite – simple to read and adorable….Amazon says:  It's Thanksgiving, and Noodles wants to join the fun. But Noodles doesn't like his part in the holiday parade: he doesn't want to be the Thanksgiving turkey! Noodles tries to be creative. He finds a clever solution to his problem and leads the parade–by turning his costume's tail feathers into a proud chief's headdress!
Another great easy reader!  Amazon says:  The story of the Pilgrims is vividly retold in simple language for beginning readers.
My children love to hear this book before bed.  Great for Thanksgiving or any time of the year.   Amazon says… Sure to warm the hearts of families the world over, this cozy and familiar prayer is perfect for the Thanksgiving table or just before bed, and is irresistibly illustrated by Caroline Jayne Church.
We love the Berenstain Bears in our home.  Here are a few that my children love.  Amazon says:  Young readers will experience the joys of fall in Bear Country with this brand-new Berenstain Bears storybook. A lift-the-flap format invites children to discover fall foliage, red apples, round pumpkins, and of course, a fine turkey alongside the beloved Bear family. In this exciting addition to the classic New York Times bestselling Berenstain property, Thanksgiving really is all around!
And…here is another:  Amazon says:  Ride along with the Bear family on Thanksgiving Day as Brother and Sister learn about all the things they—and YOU—can be thankful for … including faith, family, and the huge feast waiting for them at the end of their journey to Gramp's and Gran's. Includes a sheet of colorful stickers featuring the whole Bear family.
We love Clifford!  Here is his Thanksgiving book!  Amazon says:  It's Thanksgiving, and Emily Elizabeth's family is going to visit her grandparents. Clifford decides to go see his mom, who lives in the city. After the Thanksgiving meal, Emily Elizabeth and Clifford both rush home–thankful for each other!
My children love all of the Olivia books. She is on goofy pig with quite the imagination! Amazon writes, Olivia's fine turkey talk brings a pet turkey into her life… but Mom and Dad won't let her keep it. Luckily for the turkey, Olivia knows someone who's also a great turkey talker and who has wanted a pet turkey her whole life… Mrs. Hoggenmuller!
My children love "The Night Before" series… I think it must help them in feeling prepared. Amazon writes: Everyone's favorite fun-filled, family-filled, food-filled holiday is almost here! Follow along as the feast is prepared, cousins are greeted, and everyone gathers around the table, all with an extra helping of holiday fun.