What is a word ladder? How can it help your beginning reader?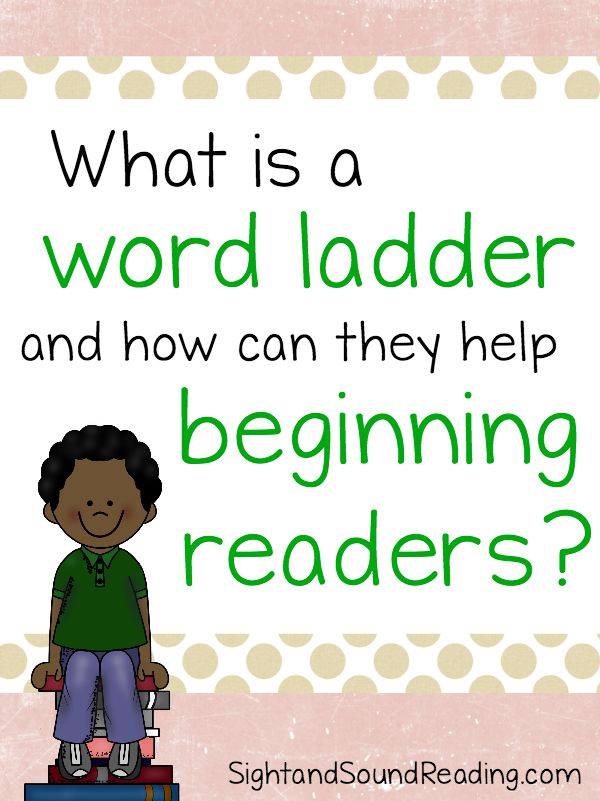 As you may have noticed under the phonics section of Sight and Sound Reading's website, there is a section titled "Word Ladders"…. This may have left you pondering –  What is a word ladder?  How can it help my child?
Teachers use Word Ladders to teach and reinforce letter patterns, phonics and rhyming, through writing, reading, and repetition.  Word ladders help children learn to read word families.  For instance, let's take the 'at' word family.  Words within this word family are 'that, cat, pat, mat, fat, rat, sat, at, bat, hat'.  Children learn the word 'at' and then, use their phonics skills to sound out each of the other words within the ladder.  The children can read up the ladder and down the ladder, easily practicing the words within the word family.  As the practice, they get stronger and more confident at reading.   Word Ladders help children eliminate phonetic frustration, and help build phonics skills, spelling confidence and self esteem.
I currently have a daughter in Kindergarten, and she frequently struggles with phonics.   I often wonder if she has dyslexia because she reverses letters, and flip/flops words around when trying to sound things out.  Reading definitely does not come easy to her.   The word ladders help her tremendously.  Each day I try to give her a Sight and Sound Reading assignment.  We always read her Sight and Sound Reading: Daily Reading Workbook
 before bed, to help her practice and learn her sight words, but, I also try to have her sit down and do one day of word ladder videos.  She has enough focus that she can usually sit through all three 'at' videos in one sitting.  On days she is distracted, she just watches what she can.   The word ladder videos have really helped strengthen her phonics skills.  It has also helped her improve her writing and spelling skills!  Mrs. Karle teaches the children how to write he each word, and helps them sound out each word.  Through all the repetition, my daughter is learning and feeling confident with reading and writing!    She used to frequently get frustrated while reading, but I really believe that the word ladders have helped her see pattterns
For each word family, Mrs. Karle offers three days of word ladder videos.  Students can watch just one, or they can watch all three -depending on what they are trying to learn.  On Day 1 of each word ladder, Mrs. Karle teaches the children all of the words in the word ladder.  She goes up the ladder slowly, sounding out each word.  She also gives the students a 'definition' for each word, to help increase the students vocabulary.  On Day 2, Mrs. Karle quizzes the students in a vocabulary test.  For instance, in the 'at' word ladder, she may ask the students these questions:
-"What does a baseball player use?" ('bat')
-"What can you wear on your head?" ('hat')
-"Can you name a very small animal that likes cheese?" ('rat')
-"If you touch someone very carefully with your hand,what are you giving them?" ('pat')
-What did Little Miss Muffet do on her 'tuffet'?" ('sat')
-"What animal likes to chase a mouse and likes to drink milk?" ('cat')   
She then will read up and down the word ladder to further practice the students reading and phonics skills.
On Day 3, Mrs. Karle writes each of the words within the word ladder with the student.  She sounds out each word, and shows the students the correct way of writing each letter of each word.
A few of the resources that we offer to help with our word ladders include a digital Word Ladders Teacher's Manual.  We also offer a print version of the Sight and Sound Reading: Word Ladder Workbook and Teacher Manual
. Both of these are great for home-school parents, or teachers who will actually be teaching a child to read.  They offer step by step/word for word what to say and do instructions.  Both of these books contain 53 word ladders, as well as word riddles and questions for each word ladder to help strengthen vocabulary development. For students who just want to follow along with the videos, just visit our Word Ladders page, which lists all of the word ladders on our site.  We are constantly adding new word ladder links as Mrs. Karle makes the videos, and I am able to edit them.
Check out these posts that are fun ways to use word ladders: