10 board games for $10 each!
As you may or may not know, I am a SimplyFun Independent Consultant.  I sell fun, educational board games.  From January 28-31,2016 there are 10 games that are $10 each!  Wow!  These games are great for Valentine's Day, Easter Baskets or…stock up on birthday gifts!  I will be ordering some games to use when the kids get invited to birthday parties.  I also think i am actually going to buy some for Christmas too.  I know, crazy -but I know these games are amazing and these are nice $10 gifts!  It will help me with my Christmas budget come December.   Hooray!  Here is the info on each of the games that are $10…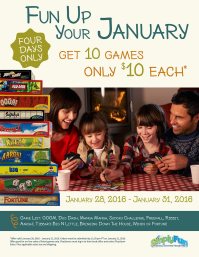 Aargh! (Normally $22) (Age 3+) -Go for the gold in this game of treasure matching using your memory skills. But watch out for the Skull & Crossbones, or your precious gold will get taken away. The pirate with the most treasure wins!
Ooga:    (Normally $18)  (Ages 6+ )  Take the Plunge as a Tribal Chief!  Me hungry, bring food. Get ready for a prehistoric banquet with Ooga! Everyone hunts dinosaur tiles with suction-cup spears for their daily feast. Menu cards tell you which dinosaurs to hunt. Toss the dino bones and capture the most menu cards to earn the honor of being Supreme Tribal Chief.
Duo Dash:  (Normally $24)  (Ages 6+ )  Excitement in the Zoo!   The animals are loose and must be brought back into the enclosures as fast as possible.  If only someone could remember where the animals were last!  Dash quickly as you and the other players turn over tiles to collect pairs of animals.  Find pairs according to the Goal Tiles. Match a valid pair and receive a positive point, collect a wrong pair and receive a negative point.  Score the most points at the end of 3 rounds and win!
Manga Manga (Normally $17) (Ages 8+)  An action packed clash of heroes!  Brave heroes have been called together in a fierce competition of speed and lightning-fast reflexes. In this action-packed game featuring Japanese Anime art, be the first to get rid of your cards to win each round. Gain strength, speed and special abilities as you go!
Sudoku Challenge – (Normally $15) (Age 6+) Take on your friends in this head-to-head version of a modern-day classic. Or, enjoy some addicting "brain food" as you sharpen your skills as a single player. Serious fun for one to four players.  Both kids and adults will be hooked on logic when they play Zoodoku. This game variation of Sudoku Challenge features colorful animals native to Japan in place of numbers.
Ribbet – (Normally $18)  (Ages 5+ )  The toad-ly fun game-Colorful frogs jump for joy as they leap on a friend's back for a ride to the finish pond. Each player secretly chooses one frog tile that tells them which color frog they will be racing. Players draw cards and move frogs based on the color and symbols. The first frog to leap into the pond wins the game! Featuring five custom-cut wood frogs, 52 cards and a colorful game board, Ribbit strengthens number and color recognition, decision-making and strategy in ages 5 and up.
Tibbar's Big and Little – (Normally $27) (Age 5+) Slide tiles to find a baby that pairs with its mommy. Features twenty-five different mommy & baby pairs, each starting with a different letter of the alphabet, in both upper and lower cases.
Bringing Down the House (Normally $25) (Age 8+) Get ready to roll! Roll the dice to get the right sequence to build the house. Finish first and ring the bell to win. Roll 3 of any kind, the house will fall and you must start all over! Play in teams or individually.
Winds of Fortune  (Normally $34) (Age 6+) Fill the sails of your ship with wind as you navigate your way to the valuable jewels of a Lost Civilization! The race is on, as other explorers also try to unearth these glittering gems..Only board game where you get to play with water too!
FreeFall (Normally $32) (Age 8+) Skydiving with none of the danger! It's a skydiving adventure with all the fun and none of the danger, and we provide the parachutes! Score points each round by staying in the highest zone, and then finally make a skillful landing for bonus points. This playful game is filled with strategy and fun for kids and parents.If you want to be added to our board game email list, fill out the form below.  You will be sent free car trip printable games that I made.
Also, if you would like to be notified of future SimplyFun specials, enter your email address below and you will be added to our SimplyFun list.  As a thank you, I will send you some free printable road trip games to your email address.
[wp_eStore_free_download_squeeze_form id=162]
Also, if you liked this post, you will also like: