Christmas Place Card Template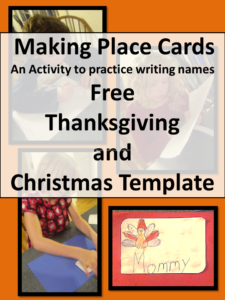 My children know how to party.  We are very fortunate to live very close to Grandma (Mrs. Karle's) house.  We also live close to my sister.  We also live close to Notre Dame…  all of these things contribute to a lot of family dinners and parties.  We watch football games together, we have birthdays together, we make videos for Sight and Sound Reading together.  So…  because we are together so frequently. my children know how to party.  They can set the table and make it look nice in a flash.
One of the things my children love to do is make place cards.  Normally they are not that fancy -just a post it note with who is going to sit in which seat.  Place cards are practice for writing your name (or someone else's name!).  Start with a capital letter and then the rest are lower case letters.   More tips for helping a child to write his/her name can be found here.  Additionally, it is great handwriting practice for all children.  My third grader loves to practice her cursive letters on the place cards!
Anyway, so, I decided to get "fancy" with Thanksgiving and have the kids make some "fancy" place cards for Thanksgiving.  I created a Thanksgiving template and then also a few for Christmas.  They are super simple to make.
1)  Have your child write names of all the guests on the paper/cards.  Make sure they start with a capital letter and make the rest of the letters lower case.  Most children starting kindergarten don't do this, so keep reinforcing this skill.
2)  Cut the cards out of the paper.
3)  Paste the cards onto construction paper
3)  Cut out each of the cards on the construction paper.  The children can color the cards too!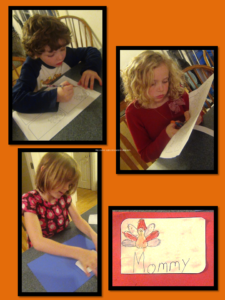 Easy Peasy, lemon squeezy!    Hope you have a wonderful and blessed Thanksgiving.
To get your place card template for Thanksgiving and Christmas, enter in your email. You will be added to our newsletter which means you will find out about more of our free downloads.  If you have any issues, contact me at Mrs.Mousaw(at)sightandsoundreading(dot)com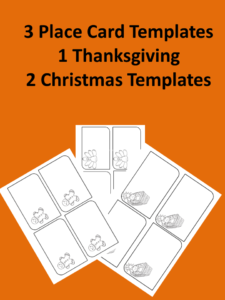 If you like this post, you will also like
Worksheet for Kids