Do you want to build a scarecrow?
I don't think I have said it enough…I love the fall! So many fun things to do. Today we will build a scarecrow! Do you want to build a scarecrow? This free fall activity is free and fun and it will challenge a child's fine motor and cutting skills. It is super cute if you glue to a Popsicle stick – but cutting and pasting even on paper is adorable . Regardless, this may also be a super difficult activity for little ones. You may want to have them color and cut out some of the easier pieces or parts. Definitely don't frustrate the little ones! Here is some help on how to teach a child how to hold scissors. If you are looking for some good books to talk about scarecrows, there is The Little Old Lady who was not afraid of anything
. This is a great book that builds suspense and wonder and a bit of fright…. My kids love the book , though! Another great book is The Scarecrow's Hat. In The Scarecrow's hat, A resourceful chicken seeks the help of her farm animal friends to solve a problem, while giving something of herself along the way. Chicken really admires Scarecrow's hat. Scarecrow would gladly trade his hat for a walking stick to rest his tired arms. Chicken doesn't have a walking stick to trade —but she knows someone who does. Thus begins her quest to find items to trade among her farm friends, all to obtain a walking stick to swap for Scarecrow's hat. But why does Chicken want an old straw hat? This is a captivating story that makes you want to keep turning the pages to see if Chicken is able to get Scarecrow's hat.
&
Do you want to build a scarecrow?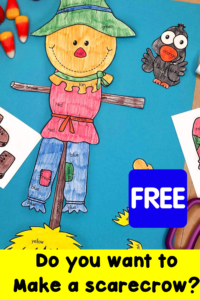 – To get your free build a scarecrow cut/paste activity, enter your information into the form below. You will be added to our email list where you will be notified about more fun things. If you have any trouble getting your build a scarecrow activity, please email me at [email protected]
Send me the free download now!
Check your email for your free download! Enjoy!