Teach a Child How to Hold Scissors Correctly
As a  kindergarten and special needs teacher  (and a mom to 6 little ones!), I have helped a lot of children learn how to hold a scissors correctly. It can be really difficult to teach a child how to hold scissors correctly but I figured out a fun and easy method that children love.   It is really important to teach correct scissors correctly because you want the child to feel comfortable while cutting and secondly, if the child holds the scissors correctly it makes using the scissors and cutting well so much easier!
Teach a Child How to Hold Scissors Correctly

To teach the correct way to hold a scissors, you can have the child pretend his/her dominant (writing/cutting) hand is a shark.  Show the child how the dorsal fin of the shark (your thumb) is pointed upward and swimming around…  Fins up and swimming!  Now that the fins are up/the thumb is pointing upward, you are ready for the friendly shark!
How to Teach a Child to Hold a Scissors Correctly
Now that the shark's fin is up in the air, you want the shark to become a very friendly shark and start waving.  Take the four fingers (not the thumb pointed up) and have them start waving/curling.  This is our friendly shark.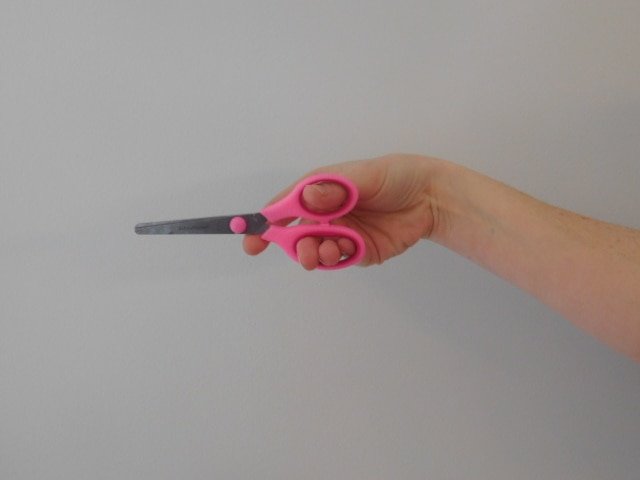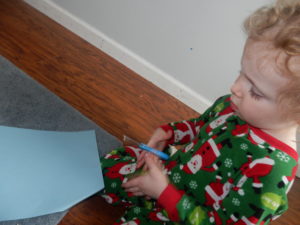 Now the friendly shark needs to eat some food! Put the scissors in the child's hands. Keep the fin up, though! The thumb stays on top! Have the child practice opening and closing the scissors like the friendly shark is waving. Now the friendly shark is eating!

The friendly shark wants to eat the paper. Next, have your child cut paper. Always make sure the thumb is up. When it is time to turn, help the child turn the PAPER so that the child is always cutting in the same direction -away from them. It is good to use card stock or thicker paper that is sturdy so that it is easier for the child to hold and turn the paper without it flopping around.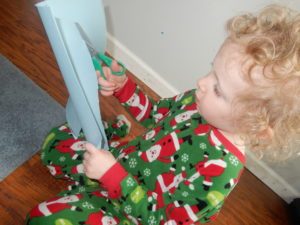 When you are showing the child the scissors, show the child that the scissors has 2 holes: One that is round and one that is longer. (Make sure the scissors that you purchase has a hole that is round and a hole that is longer. Many times scissors that are sold only have 2 round circle holes. It is MUCH BETTER to have a scissors with one round circle hold and one that has a longer sized hole so that it is easy to tell where the thumb goes. They also sell scissors that have an extra hole
to help with total control and so that the child knows where all the fingers go. You can also find scissors that naturally bounce/retract when you cut
so that when the child waves the sharks fins it naturally opens and closes the scissors.
Fiskars 5 Inch Pointed Kids Scissors 3 Pack, CoolFiskars 5 Inch Left Handed Pointed-tip Kids Scissors (2 Pack)Fiskars Pre-School Training Scissors, Color Received May Vary (194900-1001)Fiskars Pre-School Spring Action Scissors, Color Received May Vary (93907097)
After your child has mastered holding a scissors correctly, we have some free cutting worksheets for you to help them master using scissors. Like I have said before, I recommend printing on card stock or a thicker paper so that it is not floppy and difficult to hold and cut. Enter your information into the form below and you will be automatically emailed a copy of our free pre-cutting skills practice worksheets. You will be added to our mailing list where you will find out about lots of fun free activities for kids. If you have any trouble with your download, email me at [email protected] -I am happy to help!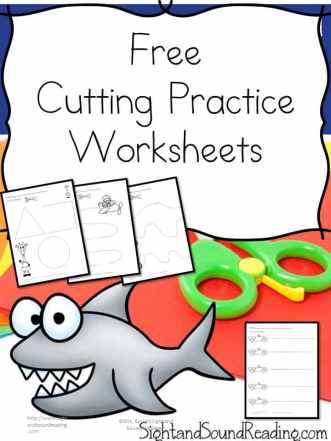 How to Grow a Confident Reader
Scissor-Cutting Skills
1. Enter you email on this form to get your free download
2. Get tips to help you grow a confident new or struggling reader
When you join Mrs. Karle's Sight and Sound Reading
you will learn how to break free from patching together reading lessons
and learn how to grow a confident reader. 
If you prefer not to have to print the cutting sheets I provide, we actually have both of the following books
at our home. They start out simple: just a straight line and then get more complicated as you go through the book. They are also great because the paper is thinker like card stock and so it is sturdy and does not flop when the child is holding it and trying to move it around to always cut away from themselves.
Preschool Practice Scissor Skills (Ages 3-5)My First Book Of Cutting (Kumon Workbooks)
If you liked this post, you will also liked: