Dr. Seuss (inspired) Worksheets for Kindergarten
It is Friday!  Time for a free worksheet.  I always love starting off the weekend like this…  I hope you like it too!  Pretty soon it is going to be Dr. Seuss's birthday!  We love Dr. Seuss.  So many fun books for little ones.  There are also a lot of great activities you can do too!  You may remember our word ladder "cat in the hat" style hats or our cat in the hat style snack we made last year.   This year I wanted to make a few Dr. Seuss inspired worksheets.  There is a hat for a word family ladder, as well as some copy/past activities, and some rhyming activities.  The books they work best with are…One Fish Two Fish Red Fish Blue Fish (I Can Read It All by Myself
, The Cat in the Hat
, and  Green Eggs and Ham
.
 Dr. Seuss Worksheets for Kindergarten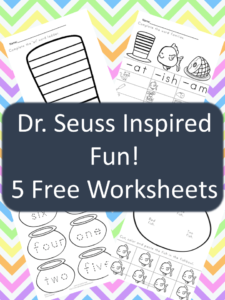 My worksheets are inspired for Dr. Seuss books.  BUT, you can find great ideas and worksheets from the real Dr. Seuss site!   Make sure you check them out too!  What is your favorite Dr. Seuss book?

To get a copy of these worksheets, please enter your name and email below.  You will be added to our email list where you will find out about more free worksheets!  If you have any trouble with your download, please contact me at [email protected].  Thanks!
How to Grow a Confident Reader
Dr. Seuss Worksheets
1. Enter you email on this form to get your free download
2. Get tips to help you grow a confident new or struggling reader
When you join Mrs. Karle's Sight and Sound Reading
you will learn how to break free from patching together reading lessons
and learn how to grow a confident reader.
These worksheets have been added to our freemium (and premium) membership.
If you liked this post, you will also like….
Would you eat Green Eggs and Ham?
Cat in the Hat -Word Ladder Style
Cat in the Hat Game
Strawberry Cat in the Hat Snack