Free Kindergarten Worksheet: Label the Snowman!
Today I have a little it of fun copy work for our little one – great for preschool or kindergarten it is a fun,  label the snowman free worksheet! Children get to label the parts of the snowman:  eyes, nose, mouth, arms and body. …  a sort of science lesson – snowman style!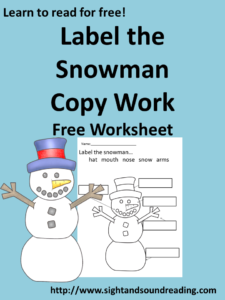 Writing this post actually reminded me of building a snowman with the kiddos a few years ago.  We had one of those adorable snowmen kit
so our snowman looked extra adorable.    They decided to name the snowman "Pirate."  He was a cute little thing and the children were so proud of him.  Here is a picture of Pirate.    They say they named him Pirate because one eye was larger than the other, sort of like he was wearing a patch.  Remember you can build a snowman with your little one with this free worksheet.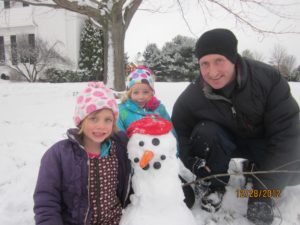 To get your free label the snowman copy work, enter in your info below. You will be added to our newsletter where you will find out about more freebies!  If you have any issues with the download, please contact me at https://www.sightandsoundreading.com.
How to Grow a Confident Reader
Label the Snowman
1. Enter you email on this form to get your free download
2. Get tips to help you grow a confident new or struggling reader
When you join Mrs. Karle's Sight and Sound Reading
you will learn how to break free from patching together reading lessons
and learn how to grow a confident reader. 
If you like this post, you will also like
Worksheet for Kids