Who is ready for the weekend?  We are!  Today's free worksheet highlights the letter 'd' -both the upper and lower case letters. Today the students are asked to cut and paste pictures that begin with the letter Dd.  They can also trace the letter Dd as well!  To help your student better learn the lower case letter d, Mrs. Karle offers a trick, and cute product.   Fill out the form to download your fun phonics worksheet.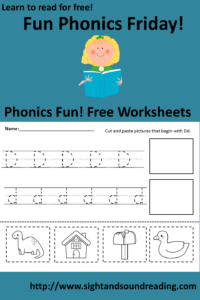 To get your free worksheet, enter your name in the form below. You will be added to our newsletter list where you will find out about great things, like more free worksheets. If you
have any trouble with the download, please email me at [email protected]
Send me the free download now!
Check your email for your free download! Enjoy!
If you like this post, you will also like
Worksheet for Kids