Teaching the confusing letter 'b'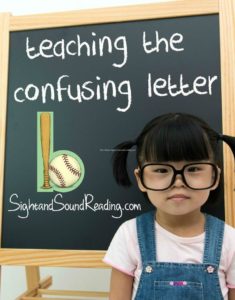 Teaching the Confusing Letter b
Do you have a student that constantly confuses the lower case letter b with the lower case letter d?  I do!  She also confuses the lower case letter p and lower case q, and the lower case g.  Many times these letters are referred to as 'letters with tails.' – and, it can be difficult for students to tell the difference between these letters.
Confusing the letters b and d, or p and g and q, can be a symptom of dyslexia.   Many students (and adults) with dyslexia can confuse the 'letters with tails' their entire lives.  It is very common for all students, though, to confuse these letters through grade 3.   Fortunately, Mrs. Karle has a trick to help students who confuse these letters.
Mrs. Karle likes to always say that the 'b' is a bat, and then a ball.  A d is a dog's head, and a tail.   As she says these letters, she always draws each letters on the board to help these students visualize their differences.  To help her students, she made up pictures, which she displays in her classroom to help the students visualize the letters.    She does the same with the p and the q and the g.  The lower case p is the pony's mane and the pony's head.  The lower case q is the queen's head and the queen's hair.  The lower case g is the girls head and the girl's hair.  When she writes these letters in her phonics videos, she always uses these terms.
With struggling readers, and with students who confuse the letters b/d/p/q/g, it is so important to have patience, and give a lot of practice in reading and writing these letters.  It is also important to find something that visually makes these letters look differently.
I have put pictures of these letters up around my house to help my daughter remember and learn the differences of these letters.  The video above shows Mrs. Karle teaching the letter 'b' to her students.  You can get a copy of her confusing letter pictures here.
Below is a video of Mrs. Karle teaching the confusing letter b.
If you liked this post, you will also like: