Christmas is often associated with the gingerbread fairy tale. The human-like cookies with the flavor of ginger has inspired gingerbread crafts and Christmas traditions. In the fairy tale, the gingerbread man is a gingerbread cookie that comes to life. It runs around because some animals and people try to catch it. Sadly, in the end a wolf eats the gingerbread man.
The term gingerbread doesn't refer only to a human character. In the world of fairy tale, a gingerbread often refers to the magnificent house.  For instance in the Hansel and Gretel story it is where a witch lives and where the children become imprisoned by the witch!
The relationship between gingerbread and Christmas according Wikipedia is shown during the reign of Queen Elizabeth I. Gingerbread was served to the queen during Christmas. It became a tradition to relate the gingerbread and Christmas.
Today, I would like to share some gingerbread craft ideas for children to make this holiday season. I hope these crafts create happy fesyibr decoration for either your family or classroom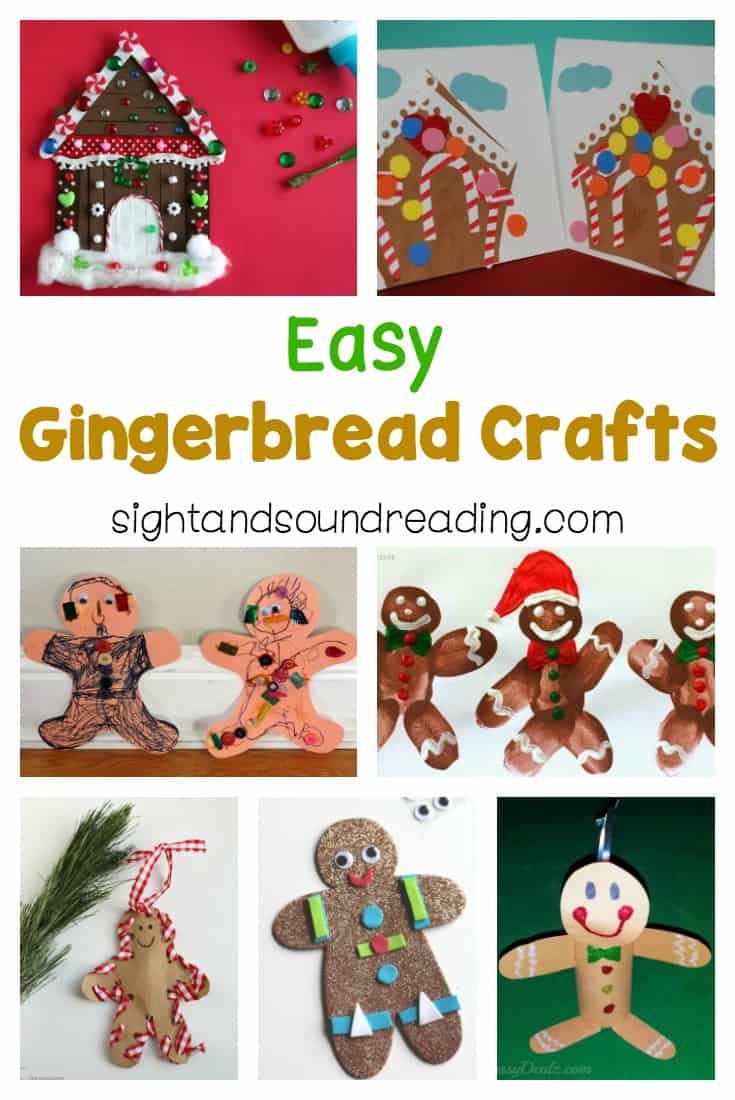 Before you have fin with the craft idea, you might want to check out some attributes related to the gingerbread:
Wilton Build It Yourself Holiday Town Gingerbread House Decorating Kit
Gingerbread Baby
The Gingerbread Man (Easy-To-Read Folktales)
Christmas Gingerbread Baker Treat Serving Tray, 10
Kurt Adler Lighted Christmas Gingerbread house, 12-Inch
Gingerbread Men Bendables – 12 Pack by Fun Express
In the Mix Gingerbread Cookie Kit, Ninja, 9.5 Ounce
LEGO 5005156 Gingerbread Man
Gingerbread Craft
Paper Gingerbread Craft from Mrs. Karle's Sight and Sound Reading (us!)
Gingerbread Man Paper Doll Decorations from Creative Family Fun
Recycled Carton Gingerbread House from Pint-Sized Treasures
Gingerbread Thank You Cards from Red Ted Art
Construction Paper Gingerbread Man Mosaic from The Pinterested Parent
Salt Dough Gingerbread Photo Keepsakes from Play Learn Every Day
Gingerbread Pirates Craft from Adventures in Mommydom
Paper Bag Gingerbread House Craft from JDaniel4's Mom
Felt Gingerbread Men Craft from Living Life and Learning
Gingerbread House Shape Craft from Mom Inspired Life  
Storybook Gingerbread House from Books and Giggles
Gingerbread Man Craft from Gift Of Curiosity
Hand-sewn Gingerbread Ornament from The Educators' Spin On It
Gingerbread Man Lacing Craft from To Be A Kid Again
The Gingerbread man Storytelling Craft from A Little Pinch Of Perfect
Adorable Paper Plate Gingerbread Man Craft from Happy Hooligans
No Glue Gingerbread Man Craft from No Time for Flashcards
Gingerbread House with a Milk Carton from Thrifty Jinxy
Gingerbread Man Toilet Paper Roll Craft For Kids from Crafty Morning
Gingerbread Man Puppet Craft from Artsy Momma
Fingerprint Gingerbread Man Craft from Crafty Morning
Gingerbread Suncatcher Ornament from Teaching 2 and 3 Year olds
Life-Sized Gingerbread Craft for Preschoolers from Artsy Momma
If you like this post, you might like:
Kindergarten Holiday Worksheets