How to teach your child about God this Christmas
As a mom, many times, at least for me, you sort of feel like you are not doing the greatest job raising your children.  You try your best, but kids are kids and despite your best efforts, sometimes they still can be naughty.  I feel very blessed and fortunate to learn about an e-book that I feel helps me be a better mom and helps me teach my children about God.  The book I found is called Melk the Christmas Monkey.  The book is intended to be done during Advent in the weeks before Christmas.  It is like a teacher's manual with word for word instructions on what to say and do.  Each day there is a fun, easy activity that you do with your children and instructions of how to teach them about God while doing the activity.   You can do it every day, or you can do it when you are able to do it.  

You may remember my first post about Melk the Christmas Monkey.  In the first lesson we found Melk the Monkey trying to reach into a jar of chocolate chips.  He came to teach us to taste and see that God is good.  God is like chocolate chips for our soul!  In this lesson the children and I made an advent chain together.  We put one link in the chain for each day there is before Christmas.  We are preparing for God to come on Christmas.  The children had so much fun making the wreath and each morning since we made the wreath, one of the children ran to remove another link in the chain.  Before we know it, Christmas will be here!  In fact, the children were so excited after making the advent chain that they asked to put up the Christmas tree.  Normally I like to wait until after Thanksgiving, but, they asked so nicely and were so excited I just had to get out the decorations.
Melk the Christmas Monkey  is an e-book…  it does not include the monkey.  You can either purchase a monkey, OR, just use any stuffed animal to do the lessons.
I wholeheartedly endorse Melk the Christmas Monkey.  The children LOVE the activities and learn from the activities.  As a mom, you look like the hero and you feel like a hero because you are teaching children to love God and you are spending fun, treasured quality time with your children.  Start a new tradition in your family and welcome Melk the Christmas Monkey into your home.
Anyway, here are some pictures of us making our advent chain.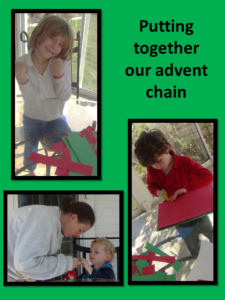 Here are all the children with their advent chain.  The Children put Melk near the top of the Christmas tree -right next to the angel.  They thought maybe the angel would whisper secrets in his ear.
If you liked this post, you will also like: