5 Tips to Maintain Summer Reading
Summer is just around the corner and it's time to start planning your activities.  Though summer is a time for fun and some laziness, it is important that your children maintain their reading skills.  Reading and comprehension is one of the most fundamental strengths to instill within your child.  The love of reading allows them to learn new things, embrace creativity and increases their understanding of words and language.  So, how do you ensure that your child doesn't lose this over summer?  We have got you covered with 5 incredible tips to maintain your child's reading through summer.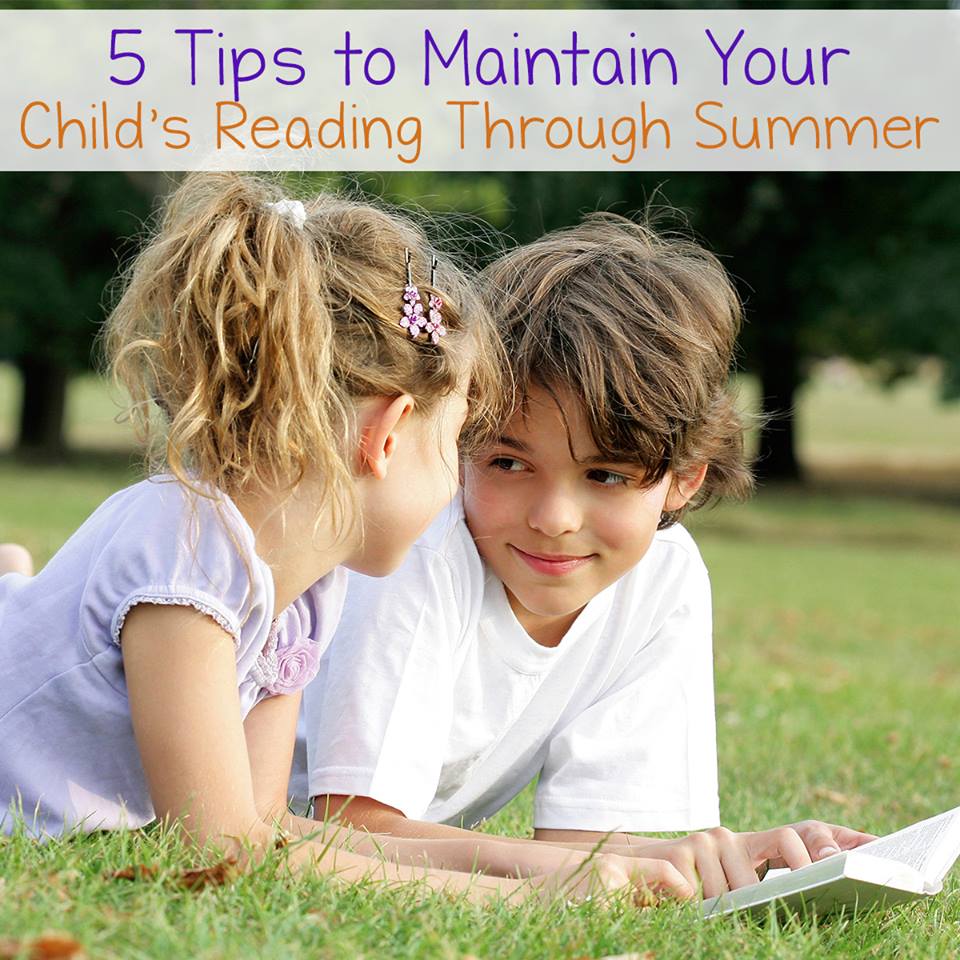 5 Tips to Maintain Summer Reading
1.  Make reading a priority in your home – Children learn to value and respect those things that you do.  Make reading a priority this summer by ensuring that your children understand how important it is.  Allow your kids easy access to books by placing them strategically throughout your home.  Set aside time each day to read.  In our home we start out with 20 m minutes of quiet time.  By the end of summer we work up to 1 hour of quiet time each day.  Children need to be quiet and in their rooms.  We go to the library each week so they have a dozen books in their room to read and enjoy.
2.  Use a monthly reading calendar – Tracking your child's reading has never been easier. Print off or purchase a monthly calendar and track their daily/weekly and monthly progress.  Give them rewards, star points or stickers as an incentive to help them stay on track.
3.  Join a summer reading program – Summer reading programs are a great FREE way to help keep your child interested in reading all summer long.  These programs offer rewards, games, free printables, coupons, and much more!  Challenge them to complete one or more reading programs and celebrate with them when they finish.
4.  Let your child choose their summer reading – There is NO better way to teach kids the joy of reading than by allowing them to choose their own books.  Visit a local library and let them browse until they find something of interest to them.  Guide them by suggesting book series that you feel would be age and subject-appropriate for your child.  In our home, m favorite way for encouraging reading is to order the children magazines
.  Kid Magazines like Highlights, for instance, are exciting for the children.  They look forward to receiving it each month and when it comes they immediately read it! So..  in our home, I order each child a magazine or two and this encourages reading throughout the year (not just the summer!)
5.  Plan an activity that centers around their favorite book – If your child loves to read about butterflies, use that opportunity to create a butterfly craft. Download free printable coloring pages or have them act out their favorite scene from the book.  Join in on the fun with them and make reading a family event.
There are so many fun, free activities on our site that encourage reading.  We have color by letter/sight word pages, games and more!  Take a look and find something fun your child will like to read.  Set time aside to read, and find some fun places to read – outside, or a nice cozy nook in the house.  Children will see that reading is important to you, and that reading is fun and they will enjoy taking a break to read each day.
If you liked this post, you will also like…