As you may remember, I recently wrote a post on nonsense word fluency.    In that post, I described nonsense word fluency, why you would want to practice or test a student on nonsense words, and when you would not want to use practice words with a student.  Today I came up with a few fun nonsense word fluency activities to help your little one get better with nonsense words (and get better with phonics).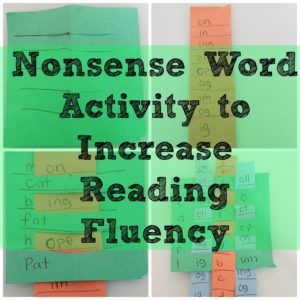 Nonsense Word Fluency Activities
With this first activity, I did a simple paper weave.  To do this I 1) cut a piece of construction paper.  Picture #1 below shows my piece that I cut.  It is about an eighth of a piece of construction paper (maybe 3x3inches). I then folded the construction paper in half and then cut equi-distant lines in the paper.  2)  Next I created my paper that I was going to weave through the green piece of paper.  I added lines to it that were spaced equally like the lines I cut in the green paper.  I then added word endings to the paper.  (I added on, in, ing, ell, ope, ag, im, og and ig).  3)  Next I added some consonants the the green piece of paper and I wove the orange word endings through the green paper.  These created my nonsense words.  I then could slide my orange paper through the green piece of paper to practice different nonsense words.  My first grader practiced these words to build up her nonsense word fluency.  We first weaved the paper over under, over under and practiced all those words and then we took it out and weaved the paper under over, under over to practice the other nonsense words.  My first grader needs a lot of extra practice with phonics and practicing using nonsense words is great because I really can tell when she is understanding and reading because there is no meaning behind the text.
To add more of a challenge for my first grader, I added a few more rows (picture number 4) to the paper weave.  I first had consonant row (on the green paper), then I had a word ending row on the blue paper, then I had another consonant row, on the orange paper, and then I added another word ending row on the blue paper.  This was great for my first grader because she did a great job practicing that each syllable has a vowel sound…so, the words we were reading were two syllables with two vowel sounds.  It was a challenge for her to read the first nonsense word syllable along with a second nonsense word syllable.  It was really good practice for nonsense word fluency -and her fluency reading phonics!  She laughed at some of the words she made…like fathop or ligbum!  It was a great nonsense word fluency activity!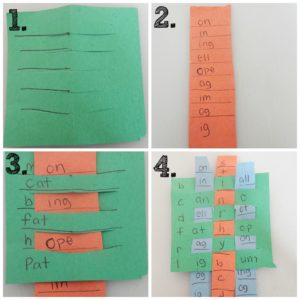 Here are some pictures of my daughter.  She made her own weave as well…and, of course she is reading the one I made for her.  Making a weave is also great fine motor practice too!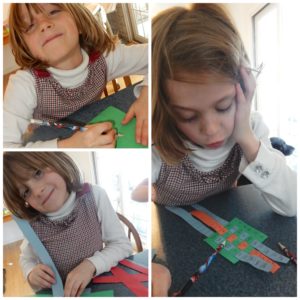 We did another nonsense word fluency activity using the game Quiddler.  Quiddler has cards with letters on them  -so they are easy to use for making words – (In the Quiddler game, you are supposed to form words with your cards).  Well, we used the Quiddler game cards to form nonsense words!    I first had the children sort out the cards into vowels and consonants.  I like the Quiddler cards because they also have some digraphs and word endings, not just vowels and consonants.    I do not like the cards because they do have some funny pictures of letters on them…but, in the corners they have the letters typed so if a child has a hard time reading the funny font, there is also typed font.  (It is a good thing Mrs. Karle's alphabet explicitly teaches children to read funny font!)  Anyway, the Quiddler cards were useful because I could easily use them to make nonsense words.  After sorting out the deck into vowels and consonants, we started building our words:
There are so many funny different words… it was just a bunch of nonsense!  I guess that was the point, though, when you are trying to do nonsense word fluency activities!
If you liked this post, you may also like…
How to help struggling readers
Reading Fluency:  What is the secret sauce to teaching reading?
Dr. Seuss inspired worksheets for kindergarten
Preschool Craft for Kids
Kindergarten Teaching Ideas