Plan a Family Fun Game Night
I remember when I was a child, many times we would set a time and date where we had to gather in the living room and play board games. There were no internet and video games back then so we just had good old fashion board games. It was always a fun night. These fond memories made me appreciate childhood and the value of spending quality time with family. Those times are just memories today. Sadly, fewer and fewer families play board games anymore. With all the technologies and individual activities each family member can do, a family gathering just to play a board game can be challenging to find the time.  I urge you, though to plan a family fun game night – you will create memories that last a lifetime!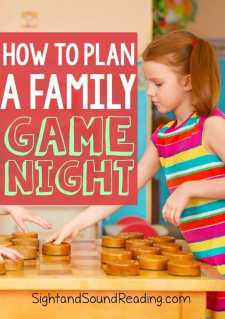 Plan a Family Fun Game Night
Planning for a family board game night is easy…  here are my no fail steps!
1.) Clear all our schedules and make it an important date. Doing this sends a message to your family about your priorities. It may be hard to gather all the members for a night, especially if you have teenagers. So you have to announce it early and be a role model. Once you have set the time and date, stick to it. The last thing you want to do is to cancel the night because of some important appointments or deadlines you have beat.
2.)No guests allowed. There may be occasions where you want to invite friends, relatives or neighbors to play with you, but this time, it is a closed-door session. If you keep it to your family, every member will realize their role and identity. Also, this is a great opportunity to improve communication among each other.
3.) Do not entertain interruptions. Turn off your cellphones, tablets, laptops and other distractions.  Let your voicemail answer your phone calls. Make sure that there are no other things that need to be done like homework and chores.
4.) Use different games. No matter how much you love certain games, if you play them night in and night out, the activity can become boring. Once in a while, buy new games. It doesn't matter what type of game you play for the night as long as everyone can participate. Also make sure that games have a balanced combination of luck and strategy so that everyone can have a fair chance of winning.
I personally like to choose board games that the entire family can play…from a 3 year old to mom and dad and even grandma and grandpa will enjoy.  Of course this can be a challenge to find games that are great for everyone but we do have a few in our home that everyone has fun playing together. Many times we start off with a few games for the younger children and then after they have gone off to bed, have a few more games to play with the adults
Here is how we usually plan a family fun game night.  We start off with great games for the little kids.  I love these games below because they all can be played in less than 30 minutes, they are all award winning and fun, and my children LOVE them.
Start with a few games for the littles (6 and under) -(but everyone will love playing these!)
***(This indicates that these are our family favorites)
***Bee Alert (A memory game that is a ton more fun than any other memory game I know!)
[eafl id=7540 name="DreamingDragon" text="Dreaming Dragon"] – (Don't wake the sleeping dragon!  Helps with fine motor and math skills)
[eafl id=7541 name="BuddyHop" text="Buddy Hop"]  – (Helps get little ones up and moving!  Great for gross motor skills and memory)
[eafl id=7539 name="ColorHuey" text="Color Huey"] – (Great for learning colors, and sight words)
[eafl id=7686 name="PopBelly" text="Pop Belly"] – (Don't pop the pig's belly!  Great for decision making, math, scientific reasoning)
[eafl id=7712 name="Crazy Mixed up Zoo" text="Crazy Mixed up Zoo"]-  – (Memory and turn taking)
After 3-4 quick games, usually the littles are ready for bed.  If they are not, we rotate…some play with the littles and others play games for the rest of the family.
Great games for the rest of the family…
***[eafl id=7546 name="Summology" text="Summology"] (Like Scrabble for math!)
***[eafl id=7549 name="WalktheDogs" text="Walk the Dogs"] (Counting, multiplication, risk and reward)
***[eafl id=7544 name="Get4andScore" text="Get 4 & Score"] (Quick Recall, vocabulary)
[eafl id=7556 name="Eye to Eye" text="Eye to Eye"] (Creativity)
***[eafl id=7551 name="Handy" text="Handy"] (Twister for your fingers)
***[eafl id=7547 name="LetsChat" text="Let's Chat"] (Great for around the dinner table or at a restaurant)
***[eafl id=7720 name="Bid A Letter" text="Bid A Letter"] (Building words, problem solving)
***[eafl id=7721 name="Farkel and Grabbage" text="Farkel and Grabbage"] (Risk and reward, observation, math, strategy)
***[eafl id=7737 name="Word bits" text="Word Bits"] -(Spelling, cognitive skills, increased vocabulary)
And, that is how you plan a family fun game night.