Polar Express Train Craft
The Polar Express is a classic children's movie and book that has captured the heart of millions of kids. What kid wouldn't want a Polar Express to come along and whisk them off to a magical land of Christmas? The Polar Express is filled with magic, hot chocolate, and Christmas spirit.   Today I have for you an easy Polar Express Train Craft.  Before we begin though, I always like to highlight the book we are learning and also some other activities that would go long with the book.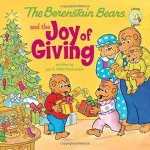 The Berenstain Bears and the Joy of Giving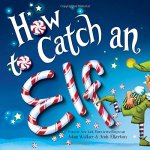 How to Catch an Elf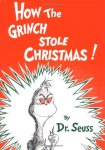 How the Grinch Stole Christmas! (Classic Seuss)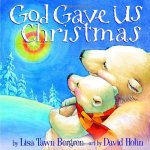 God Gave Us Christmas

After we red the Polar Express, children can make their very own Polar Express train craft with moving wheels in this simple craft.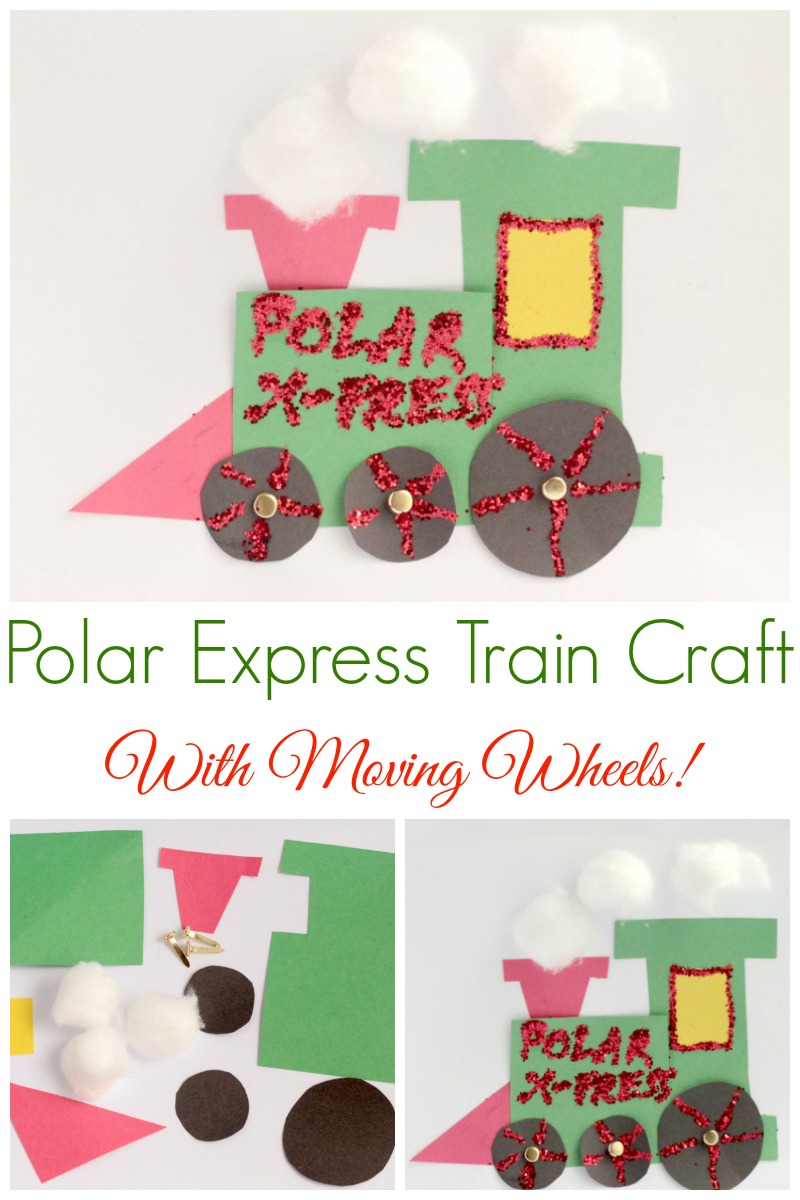 Polar Express Train Craft with Moving Wheels
This simple Polar Express train craft has real moving wheels so kids can pretend they are on their way to see Santa.
What you'll need to make the Polar Express train craft with moving wheels:
Red, yellow, green, white, and black construction paper
Glue
Scissors
3 brads
Red glitter glue
3 cotton balls
Cut a rectangle and square from green paper as pictured. You will also need a small yellow square, two small black wheels, one large black wheel, a red smokestack, and a red triangle.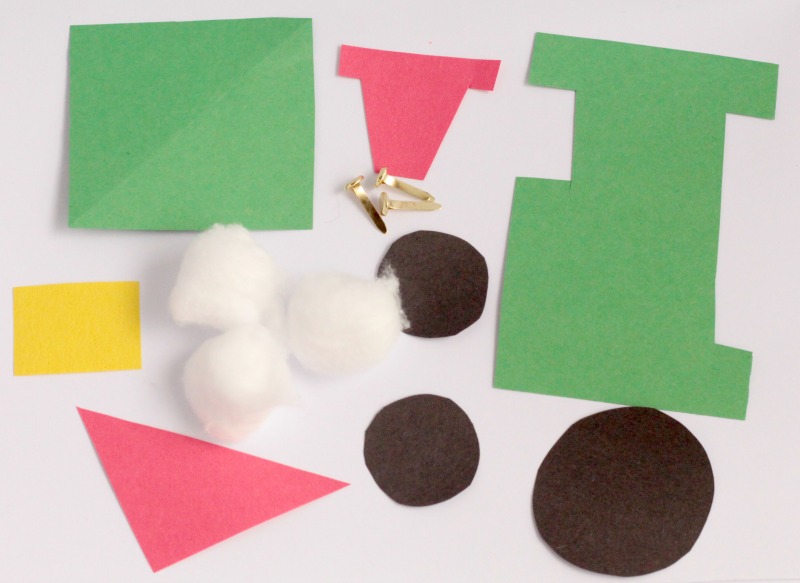 Arrange the train according to the picture and glue to a white piece of paper. Do not glue the black wheels.
Poke a brad through the center of each wheel and the train. Open the brad so the wheels can turn freely. It may take a few turns before the wheels turn easily. Make the hole a little bigger if you have problems turning the wheels.
Glue three cotton balls coming out from the smokestack to represent the train moving down the track.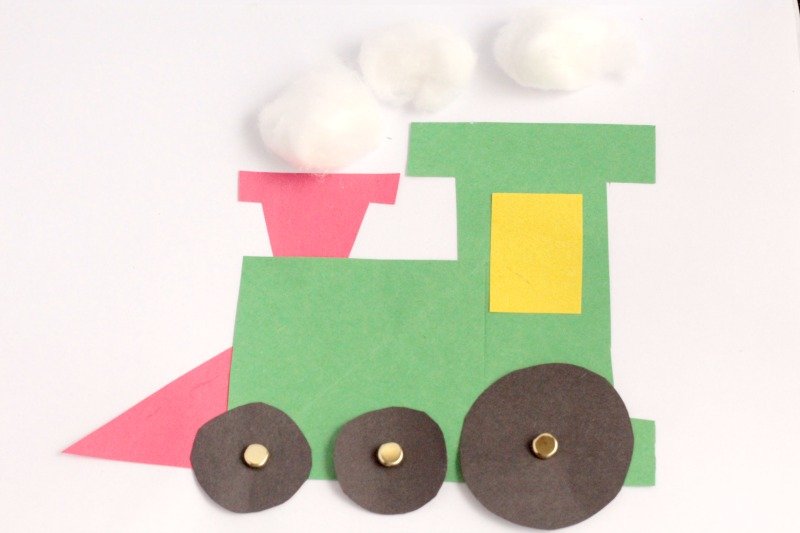 Use glitter glue to embellish the train. Add glitter glue around the window, as spokes for the wheels, or anywhere else kids want to put a bit of sparkle.
Write the words "Polar Express" on your train. You can also write "Polar X-Press" if the longer word won't fit on your trains.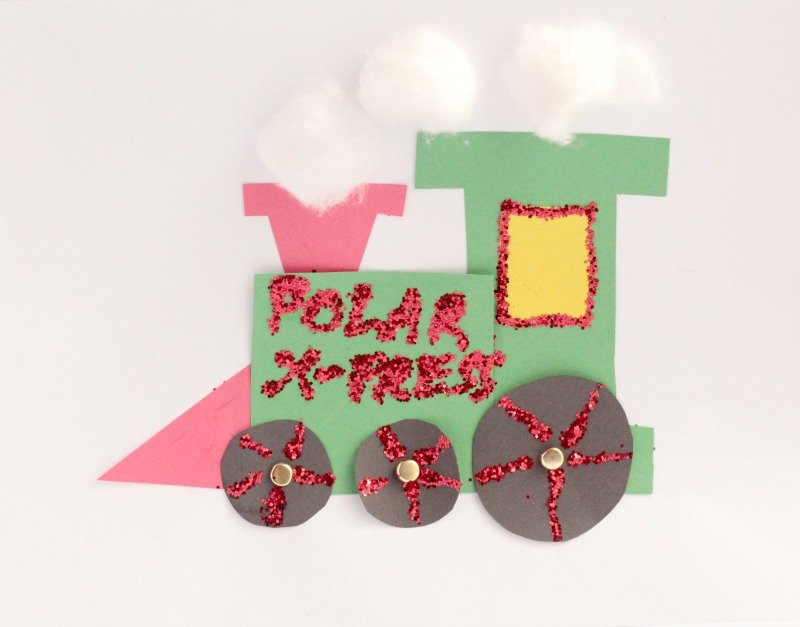 When the glue dries, kids can turn the wheels and pretend their trains are really moving down the track speeding toward the North Pole!
This activity goes great with our Polar Express Lesson Plans!  Check it out...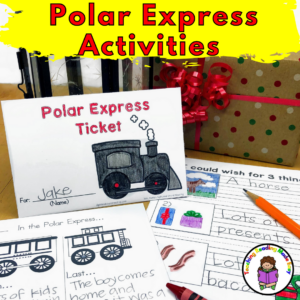 If you liked this post, you will also like: