We have another free worksheet for you!  It is another reading readiness worksheet too!  You may remember that a week or so ago we had a free reading readiness worksheet to help with fine motor skills and tracing.  Today we have a free reading readiness worksheet that helps with fine motor cutting skills!  When your little one is finished with this worksheet, there will not be much left to it!  There are two free worksheets included:  one with nativity scene, and one with gingerbread friends!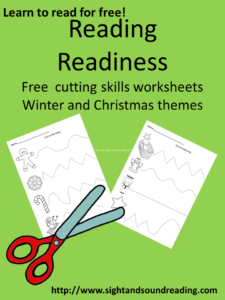 One of the main things we focus on at Sight and Sound Reading is Reading Readiness.  Why?  Because we want to make sure your little ones are ready to read when they begin our free learn to read program!   So…once your child has mastered all of these reading readiness skills, make sure to help them learn to read for free!  You can
To get your free worksheets, please enter in your information below.  You will be added to our email list where you will find out about more freebies!  If you have any issues with the download, please contact me at [email protected]  Thanks!
Send me the free download now!
Check your email for your free download! Enjoy!