Santa is an essential part of Christmas. Make your Christmas crafts a little more fun by making this interactive craft where children can help Santa travel down the chimney. All you need is some paper, some brads, and a push pop container!   After we learn how to make the Help Santa Down the Chimney Craft, I then will show you some other Santa Crafts for Kids!  Before we begin, though, I always like to share a few good books and activities that will go along with your craft activity.
The Berenstain Bears and the Joy of Giving
How to Catch an Elf
How the Grinch Stole Christmas! (Classic Seuss)
God Gave Us Christmas
Help Santa Down the Chimney Craft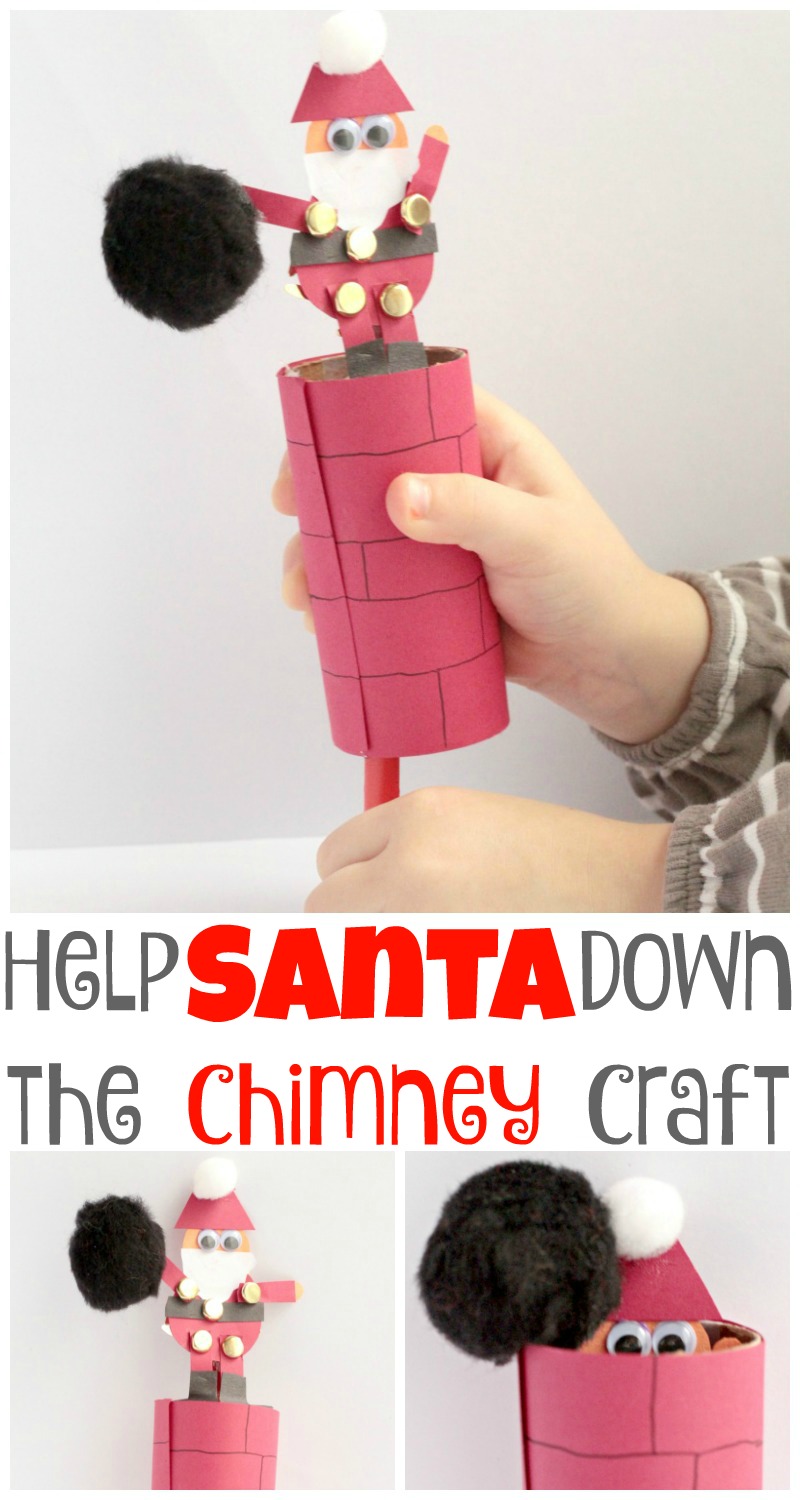 This is what you'll need to make the Santa chimney craft:
1 push pop
Scissors
Clear tape
Glue
Popsicle stick
5 brads
Red, black, orange, and white construction paper
1 large black pom pom
1 small white pom pom
Hot glue gun and glue sticks
2 googly eyes
First, make sure the push pop can be easily raised and lowered by children's hands. Cut the pop lengthwise and add a strip of tape to widen the opening just a bit. You want the plunger to go up and down easily, but still fit tightly enough so the plunger won't fall out of the push pop.
Cut a piece of red construction paper to wrap around the outside of the push pop. Draw a brick pattern onto the paper.
Cut a large round circle from red paper and four rectangles that will become Santa's arms, legs, and body.
Cut a smaller orange circle for his face, two small orange circles for hands, and a beard from white paper.
Cut two boots from black paper and a 1/4 inch strip of black paper for Santa's belt.
Glue Santa's face and body together. Use a brad for Santa's belt buckle. Attach the arms and legs to Santa's body with brads so they can move.
Glue the large pom pom to Santa's hand. This is his toy bag!
7.  Glue a popsicle stick to the back of Santa. Make sure the bottom of the stick doesn't stick out farther than his boots and the top isn't longer than his hat. You may need to trim the stick a little.
8.  Use hot glue to glue the bottom of the popsicle stick to the push pop plunger.  (If a child is making this, make sure an adult does the hot glue gun work!)

9.  When the glue is dry, insert the plunger into the push pop chimney.
10.  Push and pull the plunger and Santa will go down and up the chimney.
Santa Crafts for Kids
If you like this Santa craft for kids, you will also love these!
Simple Christmas Santa Beard Craft