How to teach the confusing letter Gg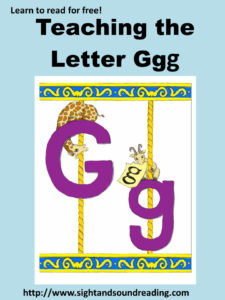 How many words can you think of that start with the letter G?  Mrs. Karle teaches a few in a goofy way today…she dresses up as a bunch of grapes to help reinforce the sound that the g makes!  Girls, grapes, green, Grandma are just a few words that begin with g!   Have you ever noticed the different ways a 'g' can be typed?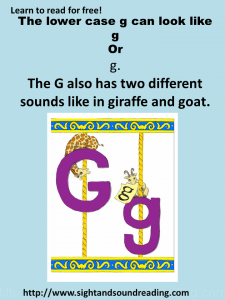 How confusing?  It is no wonder it is so difficult to read….the same letter makes different sounds and the same letter can be typed and look two different ways!  Mrs. Karle explicitly teaches the different fonts of the different letter gs in her alphabet.  As you can see from the picture above…the letter g has both a giraffe, and a goat, showing the two sounds that the g makes.  There also are three letter gs as well -showing the confusing fonts.  Lastly, the upper case G is above the lower case g – visually showing the students the difference between upper and lower case letters.   Here is a video to help you learn how to teach the alphabet.  Below is a goofy video that children will enjoy…  how many things can you think of that start with the letter g?
Would you like Free Letter G beginning sound worksheets to go along with your craft? Enter your name/email for free Letter G beginning sound worksheets to help you teach the letter G! If you have any trouble getting the freebie, please email me at [email protected]
Beginning Sound Letter G Woksheets
1. Enter you email on this form to get your free download
2. Get tips to help you grow a confident new or struggling reader
How to Grow a Confident Reader
When you join Mrs. Karle's Sight and Sound Reading
you will learn how to break free from patching together reading lessons
and learn how to grow a confident reader.
If you like this post, you should visit:
Letter G Craft: Cardboard Tube Giraffe
Letter G Craft: Goat Toilet Paper Roll Craft
How to Teach the Confusing Letter Gg
Beginning Sounds Letter G Worksheet