I have a fun activity today that Mrs. Karle loved to do in her classroom.  It is fun, it is educational, it is delicious.  Depending on which recipe you use, it may even be nutritious.  And, best of all, it is a red drink! We have a few variations of thisValentine's Day Drinks your child will love…one that is a healthier option but both are delicious! Here are a few of our favorite Valentine Day books for children to go along with this fun 'snack.
The Biggest Valentine Ever
Pete the Cat: Valentine's Day Is Cool
There Was an Old Lady Who Swallowed a Rose!
&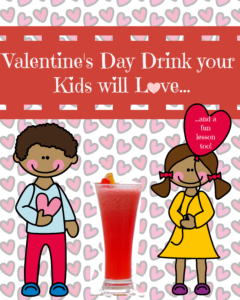 We love to use this recipe to teach the letter Ss.  I have a healthy recipe, and a not so healthy recipe.   The lesson can be modified, in either case, to teaching the letter Ss.  We like to call this recipe…
Sipping Strawberry Sodas with a Straw
Ingredients:
Strawberry Crush Soda

Vanilla Ice Cream
Straw
Spoon
1)  Add vanilla ice cream to a glass
2)  Fill glass with Strawberry Crush soda
3)  Enjoy using your straw and spoon!
Alternative Healthier recipe – blend strawberries, sugar and ice in a blender, and enjoy!
Crush Soda, 12 Fl Oz 12 Cans (Pack of 2) (Strawberry)
&
How to Teach the Letter S with this Activity 
As you can see, many of the ingredients start with the letter S.  Have your child come over and have her find everything.  When you ask her to find the spoon, emphasize the SSSS sound.  SSSSSSpoon.  SSSSStraw, SSSStrawberry SSSSoda.
When you open the soda, tell them to listen for the S sound.  Be very quiet because it is quick and quiet.  Ssss.  (The sound that happens as the carbonation escapes from the soda bottle as you open it).  Then, as you add the soda to the ice cream, the soda will 'sizzle'.  The children love to see the soda 'sizzle' when added to the ice cream….  they can hear and say the letter 'Ss' sound right along with the sizzling soda!  Have your child say sssss with the sizzling soda.
Then, hand out the sssstraws.  Have fun sipping soda with a straw!  SSSSssssss.
This healthier recipe does not sizzle and make the Ss sound as much, but – it certainly is a fun activity and fun drink.  As the blender blends the drink, have your child make the sssss sound along with the blender.
Enjoy!
If you liked this post, you will also like:


Edible Science Experiments for Kids | The Natural Homeschool


Baking Chocolate Chip Cookies with a Preschooler | Simple Fun for Kids


Fairy Princess Valentine's Baking Day | Artsy Momma
You will also like…
Preschool Color Activity to help with Reading Readiness
Noodle Letters and Cream Sauce
Kindergarten Teaching Ideas