What is a North Pole Ninja?
So you came here because you are wondering what is a North Pole Ninja?
  I am pleased to let you know it is heartwarming fun and adorable.  North Pole Ninja is an interactive holiday story and tradition.
North Pole Ninjas: MISSION: Christmas!
What is a North Pole Ninja?

The picture book chronicles the legend of the North Pole Ninjas
(Santa's secret helpers that carry out good deeds and call upon new "recruits" to go undercover and complete thoughtful, heartwarming secret tasks.  The boxed set comes with
The North Pole Ninja picture book
A Plush "sensei" Ninja
50 Top Secret Missions for your ninja recruits to complete.
Missions are sweet and simple – like
Pay one nice compliment to each person you see today -be honest and kind
Lasso up your old clothes and donate them to a charity.  Help other kids stay nicely dressed this winter.
Sit and chat with a new friend at lunch.  Make them feel happy.
It is nice to help children focus on helping and giving to others instead of receiving presents!  I received a free copy of the North Pole Ninjas to review and my children have loved it!  We have delivered a meal to a friend who needed some extra TLC, and we wrote letters to someone who has not heard from us in a while.  The kids love to pick out a secret mission and head out with their Ninja to do good deeds!
North Pole Ninjas
empowers children to take action and makes it fun for them to give back to their friends, families and communities.
North Pole Ninjas: MISSION: Christmas!
&
Do you want to know something more exciting?  Penguin Young Readers has sent me a copy of North Pole Ninjas
to give away!  If you would like to enter, make sure you check out the rules here and then enter using the form below!
If you liked this post, you will love…

If you like this post, you might like: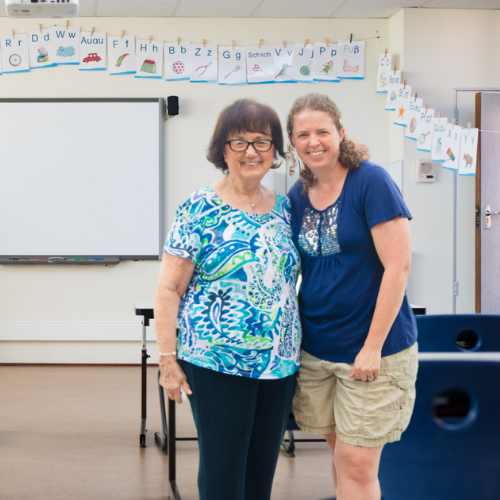 Madreen Karle is a master first grade reading teacher with over 30 years of classroom experience. She taught reading in a special needs and English as a Second Language classroom. After retiring she wrote a reading program to help others learn how to teach reading. She is a trusted educator and author of 5 books to help teach children to read and write. In addition to her books, she is a mentor for 3 websites that give reading teacher tips (Mrs. Karle's Sight and Sound Reading, Mrs. Karle's Reading Patch, and Mrs. Karle's Handwriting Patch). Through her teaching she learned that confidence was the key to learning to read. A child who is not confident at reading does not like to read and struggles to read. Mrs. Karle created "sunshine moments" to help teach children how to grow their confidence and learn to read.
Meeghan Karle Mousaw (Madreen's daughter) has her Master's in Special Education. She has 8 years experience teaching children to read online. In addition, she developed a curriculum to teach children handwriting called The Handwriting Patch. With the Handwriting Patch learning is fun because children learn to draw and learn handwriting at the same time. In 2019 The Handwriting Patch curriculum became an amazon best seller the first year it was released, helping thousands of kids learn handwriting with a unique, fun method. She is mom to 6 kids, each with differently learning abilities and struggles.
The Reading Patch was established by the creators of Mrs. Karle's Sight and Sound Reading. Together they have been featured on the NBC media outlets and Parents Magazine online. Over the last 8 years in their online platform, Madreen and Meeghan have worked tirelessly with teachers, homeschoolers and parents looking to help children learn to read to become a trusted authority in teaching children to read and advocating early literacy skills. They often partner with other educational experts to deliver the most current information to the Reading Patch community.