I hope everyone had an amazing 4th of July weekend.  I have a daughter and a sister born on the 4th of July so our house is always a party on the big day. This year was no different except that we got a new "toy" that was seriously the best thing ever.  I received a discount on Blast Zone's Crocodile Isle in order to be able to review and share it with you.
Wow!  Talk about impressive and awesome.  Blast Zone Inflatable Water Parks
are enormous and strong.  Even my husband was able to have some fun with it.
Secondly, Blast Zone
was super simple to set-up! My husband would be the first to complain about setting something up, but he made it a point to say to me make sure you say that it was super simple to set-up. The hardest part for us was trying to figure out where to put it! Once we found a place that was safe and the hose reached, we were up and running in 7 minutes -air inflated and everything! Next, Blast Zone
 is super fun. I took a few rides down and I seriously screamed down the slide each time. It is super fast and awesome! We had 8 kids playing on it at one time -no issues at all. Blast Zone's Crocodile Isle
is the talk of the neighborhood.  Our house is officially the place to be.  What I would do is get one for your entire neighborhood.  Each of the parents could take turns being the life guard and then all the kids will spend their entire summer splashing in the best home water slide ever!
UPDATE:  We got the Blast Zone Crocodile Isle
in the summer of 2015.  The kids really enjoyed it -we had it up the entire summer.  We would take it down each night, keep it on the lawn and then I would drag it to another area of the lawn so that it did not kill the grass for lack of sunshine.  At the end of the summer we let it try out for a few days outside in the sun…rolled it up and put it back in its case for the winter in doors.  Now it is summer 2017 and the kids have asked every day for a month to put it out (it is only 70 degree weather here -so, still too cold for the fun).  The kids clearly could not wait for the fun.  We have it out and I know it will be a great summer watching them play on the Crocodile!  The Blast Zone Crocodile Isle
is fun, sturdy and well made…  I definitely recommend!
Anyway,  to help celebrate summer and this awesome inflatable water park, I wanted to make some color by letter/color by sight word summer worksheets to add to my collection!  To get your free summer water games worksheet, enter in your email into the form below.  You will be added to our mailing list where you will find out about more fun things, like free worksheets!  If you have any trouble getting your worksheets, please email me at [email protected]
Here is what the free worksheets look like: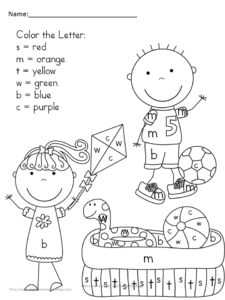 [wp_eStore_free_download_squeeze_form id=91]